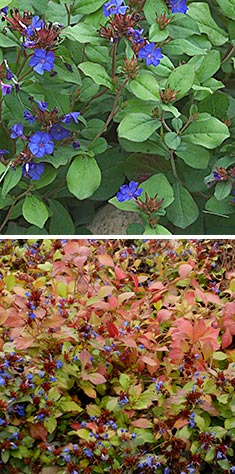 By George Papadelis
In the fall, most gardeners are amazed to find a multitude of blooming perennials that are available to brighten up their autumn garden. Besides mums, gardeners may choose from many underused late-blooming plants such as toad lily, butterfly bush, caryopteris, perennial lobelia, yellow wax bells, asters, hibiscus, and many more. Unfortunately, many gardeners shop for flowers in the spring and summer when the fall bloomers are difficult to appreciate and are often overlooked.
One of the most versatile and underused fall boomers is plumbago (Ceratostigma plumbaginoides). This perennial may be used as a groundcover in masses or as a clump-forming accent plant. It forms vibrant blue flowers that last from late summer well into the fall months. In the fall, the olive green foliage turns a bronze-red that provides a tasteful contrast to the bright blue blossoms.
Plumbago grows 8 to 12 inches tall and will grow in both sun or almost full shade. It prefers well-drained organic soil especially when winters are wet. To ensure overwintering, plant by late September so plants will become well established before winter sets in. Also provide a protective layer of mulch in late November or early December to eliminate soil temperature fluctuations. During the winter, plumbago dies completely to the ground and then emerges late in the spring. Gardeners need to be patient for this new growth to appear.
Plumbago's small blue flowers are a great source of fall color in rock gardens and short border plantings. Also use it as a unique underplanting for trees and shrubs because of its beautiful color and texture. Whatever its use, plumbago's brilliant flowers, excellent fall color, and short growth habit make this a versatile plant in any garden needing plants with late season interest.
George Papadelis is the owner of Telly's Greenhouse in Troy and Shelby Township, MI.