by Deborah Miller
In midsummer, panicked homeowners see fallen leaves from their crabapple tree and wonder if it is dead. These folks love their plants and want to save them from what looks like certain death. They are right to be concerned when they see leaves falling like large snowflakes. The cause of such "sudden" defoliation can be many things that can often only be determined by firsthand examination of the tree. Drought stress on a recently transplanted tree, root-drowning from excessive irrigation, or a disease organism are some of the possibilities.
When defoliation occurs in mid to late summer, one of the most likely culprits is apple scab. In regions where spring weather is wet and temperatures range from 40 to 70 degrees, this fungal disease is the most serious one of apples worldwide. In the home orchard, heavy fungal infection results in premature fruit drop. Susceptible crabapple cultivars may completely lose their leaves following a wet spring and prolonged periods of rainfall in summer.
Symptoms and damage
The fungus can infect leaves, petioles (the attachment between a leaf and its stem), fruit and twigs. The most dramatic symptoms occur on the leaves of all host plants and on the fruit of common apple trees.
The first symptoms occur on the underside of leaves as small, velvety, olive-green spots, one inch or more in diameter. These spots are caused by the production of spores and can be rubbed off on the finger. Young infected leaf tissue is stimulated to overgrowth, resulting in curled and puckered leaves. As the spores mature, the velvety olive spots turn black. Young spots may be feathery and indefinite, but with age the spots become more defined. As the fungus grows parasitically inside the leaf, photosynthesis is repressed. Ultimately the leaves turn chlorotic, yellow, die and fall off. Trees suffering from extensive defoliation 2 or 3 years in a row are susceptible to winter injury and may be weakened, allowing other diseases or insect pests to invade.
Less frequently, succulent twigs become infected on particular cultivars of apple and crabapple. Infection areas are delimited by a corky layer and branch surfaces may become rough and cracked. Fruit infection sites begin as small, raised, rounded, dark olive areas. Young fruit may be distorted. As spots increase in size, the fruit skin ruptures and forms a white rim around the velvety center. The center then becomes raised, corky and tan in color, resembling a "scab," giving rise to the disease name.
Although infected apples may be eaten without harm to people, the fruit disfigurement often precludes consumption. The cracked areas also allow entry to secondary organisms. If fruit infection occurs in late summer or early fall, small specks may develop in storage and this is known as pinpoint scab.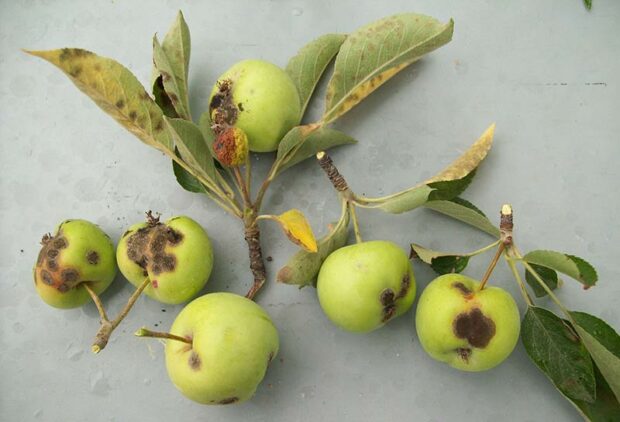 Life cycle
The apple scab fungus overwinters predominately in dead leaves on the ground and orchard floor, which serve as the source of primary spring infections. Some primary infection may occur from overwintered lesions on twigs, particularly following seasons of severe scab epidemics. During periods of rain and warm temperatures, spores are ejected into the air and wind blown or splashed onto newly emerging leaves, flowers or fruit. Infected tissue develops secondary spores which infect other leaves, fruit or twigs. Secondary infection occurs during rainy periods during summer and early fall. Infection slows during dry weather.
Prevention and control
All of this may sound scary and you may wonder if you should bother planting apples or crabapples at all. My advice is yes, do plant them, but choose resistant varieties where available. More than 25 scab-resistant varieties of apples have been developed by U.S. agricultural universities, including 'Jonafree,' 'Freedom,' 'Goldrush,' 'Liberty' and 'Redfree.' Note that the cultivars may be susceptible to other diseases such as cedar-apple rust and fire blight. Try to choose cultivars resistant to the two most important diseases in Michigan: fire blight and apple scab. Some crabapple varieties resistant to apple scab are 'Indian Summer,' 'Jewelberry,' 'Pink Princess,' 'Prairifire,' 'Sargent,' 'Sargent Tina,' 'Professor Sprenger,' 'Strawberry Parfait,' 'White Cascade,' 'Sugar Tyme,' and 'Centurion.' Cultivars mentioned here also have good to excellent resistance to fire blight and cedar-apple rust.
Other cultural controls that may help reduce incidence to disease development include: planting in full sun and in areas with good air circulation, pruning inner branches to allow tissues to dry quickly, and raking and composting fallen leaves in autumn in a hot compost pile. Adding nitrogen fertilizers to leaves can hasten natural decomposition. Some orchards reduce potential for severe scab through foliar applications of five percent urea in autumn to hasten leaf decomposition. Avoid overhead irrigation where possible, as this simulates periods of the leaf wetness necessary for spore infection.
For very susceptible cultivars, cultural controls will not be effective in disease management. In this case, fungicide sprays are necessary for prevention and control. The best control is achieved when the leaves are protected from the primary spores. Fungicide sprays should begin as leaves begin to emerge in early spring. Both protectants and preventative fungicides can be used to manage scab. Protectants, however, have limited protection periods and may need to be applied more than a dozen times a year in a wet year or a minimum of five times in a drier year. Some protectants recommended are captan, sulfur and lime sulfur. Preventatives are much more effective and only two applications may be necessary if applications are made when 1/3 to 2/3 of the leaves have emerged. If spring rains continue, a third application may be necessary. Most preventative products are not labeled for homeowner use—contact a certified arborist or plant health care specialist.
For control of apple scab on orchard apples, contact your local extension service (go to www.MichiganGardener.com > "Resources" > "Garden Help" to find a list of Michigan State University county extension offices). Some of the products mentioned above cannot be applied on fruit for consumption. Before using any fungicides, always read label directions carefully and follow safety precautions.
Before treating your plants for apple scab, it is advisable to have your plant problem diagnosed by a certified arborist or plant health care specialist.
---
Apple scab at a glance
Disease: Apple scab (Venturia inaequalis)
Description: Serious fungal disease causing premature defoliation and fruit loss of ornamental and fruit trees.
Plants affected: Crabapple, common apple, cotoneaster, firethorn, hawthorn, common pear
Symptoms: Leaves: olive, moldy, irregular leaf spots appear; leaves turn yellow and fall prematurely. Fruit: Infected fruit have corky, velvety spots. Fruit is malformed and may drop prematurely.
Management: Plant resistant varieties; thin out (prune) branches to increase air circulation; apply fungicide sprays in early spring and during periods of wet weather.
---
Deborah Miller is a plant pathologist from Genesee County, Michigan.
Elsewhere: Scab-immune apple varieties are worth a try