There are several species of lecanium scales (Parthenolecanium) throughout North America. European fruit scale and oak lecanium scale are the ones most commonly found in Michigan on maple, birch, redbud, quince, beech, ash, ivy, fruit trees, locust, arborvitae and many others.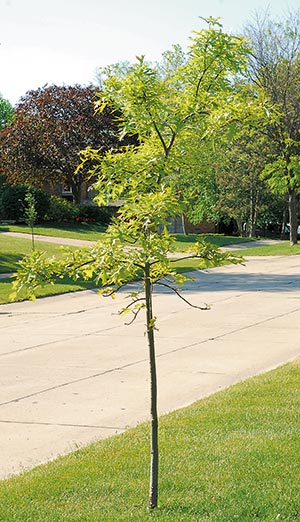 Description
Mature female lecanium scales are less than 1/4 inch in diameter, rounded, and reddish to brown in color. Males are brown, flying insects, and have two long, tail-like, whitish hairs. Eggs are whitish, very small and may look like pollen. Young nymphs (crawlers) are flat, pale white to yellow with legs, eyes and antennae. Older crawlers are flat, brown and have less noticeable legs and antennae.
Lecanium scales have three (in the female) or four (in the male) stages of development (called "instars"). Males develop into pupa that are a pale peach, covered by a translucent waxy coat. Females overwinter in the second instar on 1- to 3-year-old twigs. They mature in the spring, lay many eggs (1,500 or more) in May or June, and then die. Their dead bodies protect the eggs beneath. Crawlers hatch out in June or July, migrate to the underside of leaves along the mid-rib and veins to feed. In late summer they migrate back to the twigs and develop their waxy coating to overwinter. There is one generation per year.
Damage
Damage caused by lecanium scale includes smaller flower size, discolored leaves, and premature leaf and fruit drop. In heavy infestations there can be dieback of twigs and branches, and stunted growth. Scale feeding weakens a plant but is rarely life threatening on its own. They produce a great deal of honeydew, a sticky excrement that can coat almost anything under the tree. A sooty mold may develop on a honeydewed surface. This can discolor the branches and trunk so they are nearly black.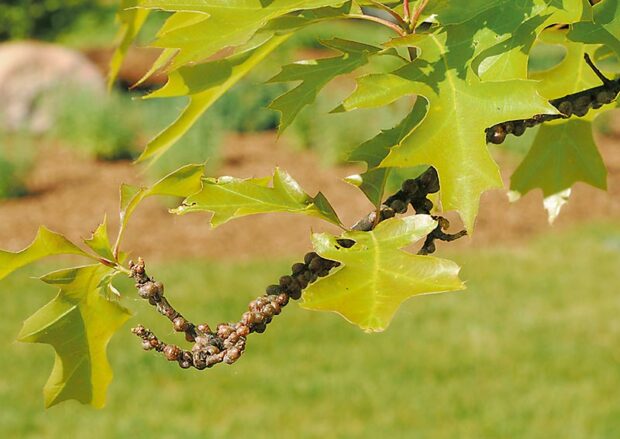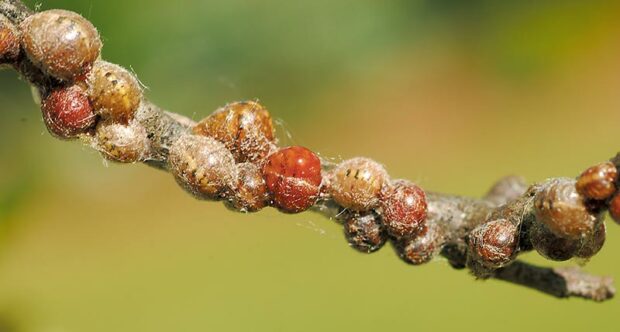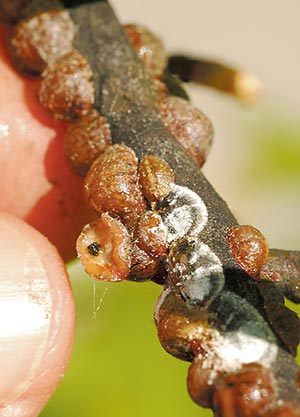 Control
Control of this scale comes first and foremost from proper cultural practices that keep the plant otherwise healthy and vigorous, so it is able to withstand scales' feeding and produce natural defenses and deterrents to their reproduction. Avoid stressing or overfertilizing the plant. If pesticides are determined to be necessary, timing of the application is everything.
The crawlers are the most vulnerable stage. There are different approaches to deciding when to apply a pesticide. You can use a calendar approach, applying on a reference's recommended date. With this approach, control is difficult because weather is so influential in insect development and yet so variable from year to year.
Another approach is to use indicator plants to time your control. In his book Coincide: The Orton System of Pest Management, Don Orton says when smooth hydrangea (Hydrangea arborescens 'Grandiflora'), bottlebrush buckeye (Aesculus parviflora), and yucca (Yucca filamentosa) are blooming, lecanium scale crawlers will be present.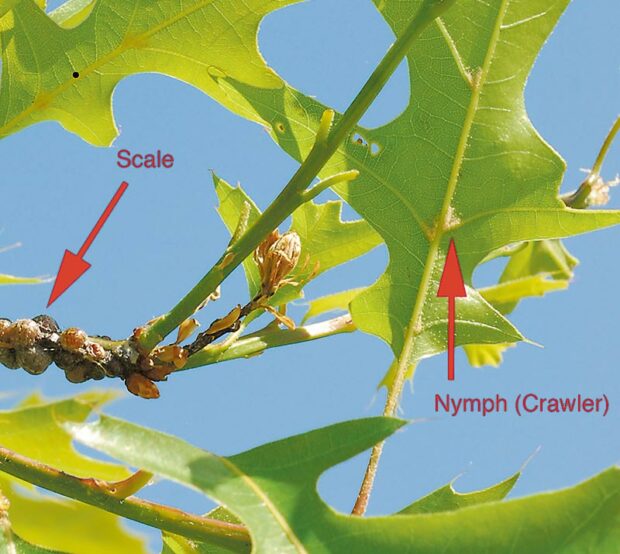 Lastly, there is the most reliable approach: go look at the plants to see when the crawlers are present.
There are natural predators that attack lecanium scale such as ladybeetles, lacewings, mites and wasps. However, as Dr. Dave Smitley from Michigan State University says: "These soft scale insects go in cycles and rarely cause any harm to landscape trees. The scale infestation sometimes becomes worse when the trees are sprayed for other reasons…because the insecticide kills predators and parasites that keep the scale insects under control."
A horticultural oil may be used in the early spring to smother the females on the twigs. Also, a systemic with the active ingredient imidacloprid can be used as a soil soak to allow the tree to take in the pesticide before the crawlers emerge. Remember, before applying a pesticide, ALWAYS read the label to ensure proper use for that insect and that plant.
Article and photos by Steven Nikkila, www.gardenatoz.com.