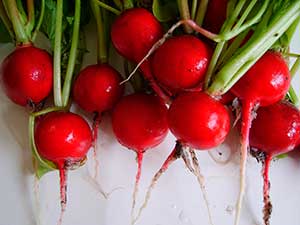 The Salt at NPR.org:
Yes, it is true that gardening requires patience.

But face it, we live in an impatient world. And gardeners everywhere were depressed by the brutal and endless winter.

So we are understandably eager to get sowing. And to see results by … well, if not next Thursday, then maybe mid-May?

There are two ways to make this happen. Some garden varieties naturally have a short germinate-to-harvest cycle. Then there are the hybrids developed at universities and seed companies. They take two plants with great traits (like early arrival or cold tolerance) and forge an even hardier offspring.

For guidance on the world of speedy plot-to-table vegetables, we turned to Ryan Schmitt, a horticulturist and garden blogger in Longmont, Colo., and Weston Miller, a community and urban horticulturist for the Oregon State University Extension Service.