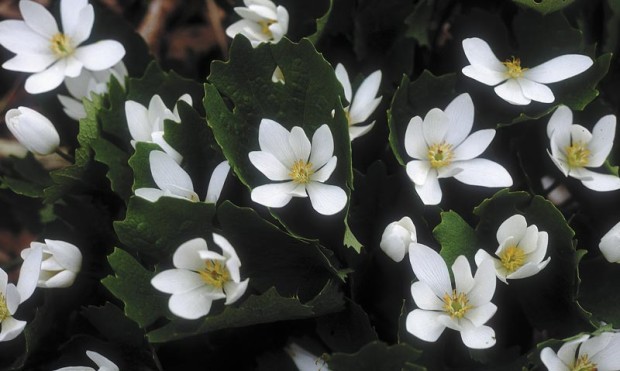 Do you give your garden's flip side any attention?
For those raised entirely in the age of the MP3 and CD, a brief historical side trip is in order. Recordings of popular songs were once sold individually on 45 rpm "singles." Buyers usually sought a "45" for the song on the "A" side, receiving the lesser ditty on the "B" side or the "flip side," only by default—Elton John's "Crocodile Rock" was the "A" accompanied by a flip side "Elderberry Wine."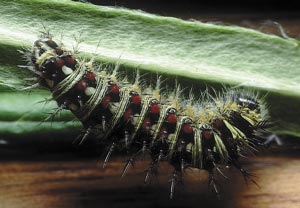 Most of the time the flip side got little play. However, the song on the flip side of a 45 was ocassionally a delightful find.
Plants and gardens are that way. Although we buy or grow for an "A" side—that certain shape flower, a particular fragrance, or a rich fall color—we ought to give flip sides a play or two. They're good for a laugh and sometimes for longer term enjoyment, but even if appalling they are enlightening.
Pearly everlasting (Anaphalis margaritacea) is a sturdy native perennial of sunny, sandy places that opens white nubbin flowers in dense clusters in August. The flowers dry in place—thus the moniker "everlasting." The plant's downy gray foliage gets little special attention, except when invaded by tiny "worms" in May. These knit together and despoil the leaves at the tips of stems, alarming and disgusting most gardeners—unless they're given a bit longer play.
If you hold off on the insecticides, the "worms" can be quite entertaining. Small, dark and creepy at first, as they grow they become recognizable as the larvae of the American painted lady butterfly. Experience teaches that they will finish feeding sometime in June and depart to pupate, at which point a well-established pearly everlasting will grow over its tattered tips and bloom without concern at its normal time.
Given their long evolutionary gig together, it shouldn't be surprising that insects are often present on a plant's flip side.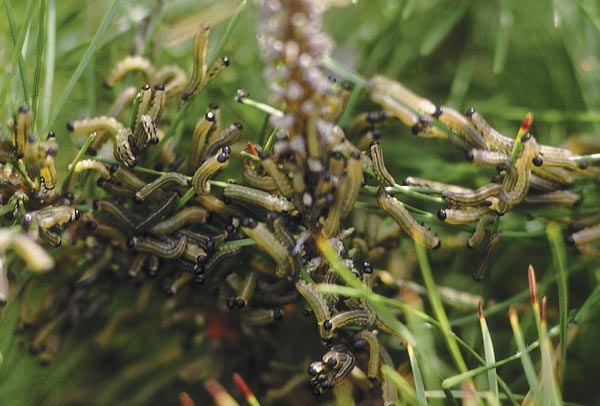 Pine sawfly on a mugo pine is a "B" side that can disgust a gardener. Given just occasional play, though, sawflies have a certain charm.
First, there's the way they emerge from the eggs on the needle, a perfect row of bumps on the needle's underside. Sometime in May the caterpillar-like sawflies pop out in close-coordinated sequence. The needle becomes a stage for a chorus line of tiny acrobats which first hang down, then flex and flip themselves topside to begin a few weeks of feasting.
If not blown away by a forceful stream of water or insecticidal soap during their debut performance, they grow to show the tolerant observer yet another dance number.
By mid-June a sawfly gang is clustered below the new growth, each member as long as and colored much like the needle on which it feeds. Even the preoccupied gardener notices the act at this point and pauses to look more closely. The colony's response to this close inspection is a uniform twitch and freeze.
There is no way to save or replace the needles by this time. Once the needle-imitating sawfly larvae depart, plummeting to the ground to pupate in the soil by next spring, that stretch of stem will be bare. I usually squash the group and clip the affected stem back to a side branch, but not until I've given the group my eye and a bit of direction, moving my hand close and then away to choreograph the twitching motion. I wonder that someone hasn't videotaped and exploited this performance—it's just begging to be set to music.
People and plants have a long history, too, so that human interaction with a plant becomes part of its flip side. Bloodroot (Sanguinaria canadensis) is understandably well known for its charming "A" side, brilliant white flowers at first protectively folded into and then proudly displayed among mitt-like gray green leaves. Its flip side somehow escapes notice. Next time you divide a clump of bloodroot—you should do this every few years as a defensive tactic because clumps are known to succumb suddenly and totally to root- and crown-destroying fungi—break a bit of root and you'll see the flip side in the orange sap that oozes out.
The sap of celandine or wood poppy (Stylophorum diphyllum) is a flip side too. It's valued for its "A" side in a shady garden, bright yellow flowers in spring and early summer. Its "B" side is there to be discovered all season—a plucked stem can yield enough bright yellow-orange sap to write out a word or two. Harmless, temporary dye. It's said that the great garden designer Gertrude Jekyll would write notes to herself in celandine sap.
The "A" side of prairie coneflower (Ratibida pinnata) is apparent in July – a wind-generated bobbing and weaving of its yellow-petalled flowers that might be titled "Dance of the Golden Shuttlecocks." The flip side should bear the name "Lean on Me," since that's the act that follows when the plant is placed as nature intended, among tall grasses. Without the accompaniment of grasses or other sturdy neighbors, the flip side can be a bother, however, requiring tall, carefully placed stakes.
I've seen the flip side in a different version though, one so arresting that it literally changes the "A" side. Knowing that the 4- to 5-foot stems will splay in July but wanting to avoid staking, a gardener can play that flip side early and to advantage. In May, pull the stems down and away from each other and use bent wire to staple them to the ground in a sunburst pattern. The stem ends and the side branches will all turn upward then, growing to produce a spoked circle of half-height, self-supporting shuttlecocks.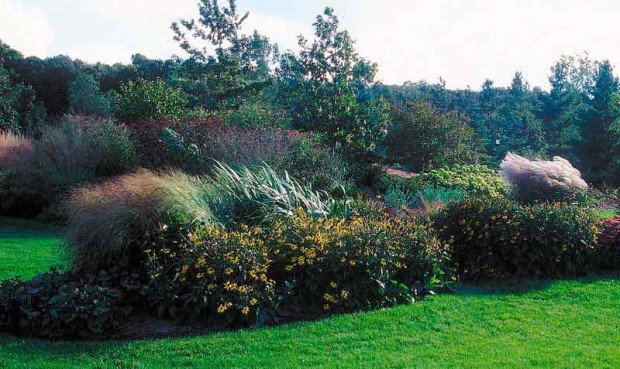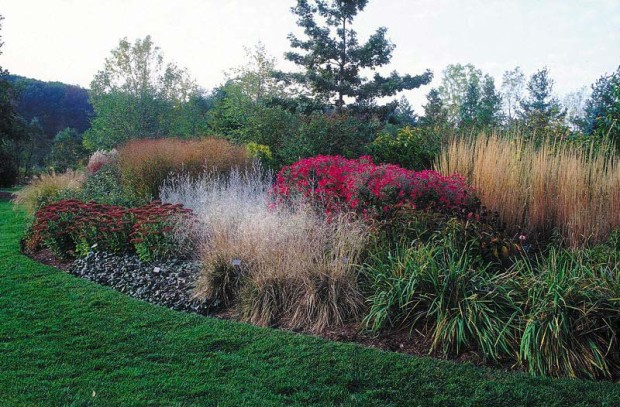 Ornamental grasses have quite a motherly tone to their flip side. Besides acting as support for tall prairie flowers, they serve as windbreaks for other plants and animals too—pay attention and you'll notice butterflies and birds taking shelter on the lee side of a dense grass on blustery fall or winter days.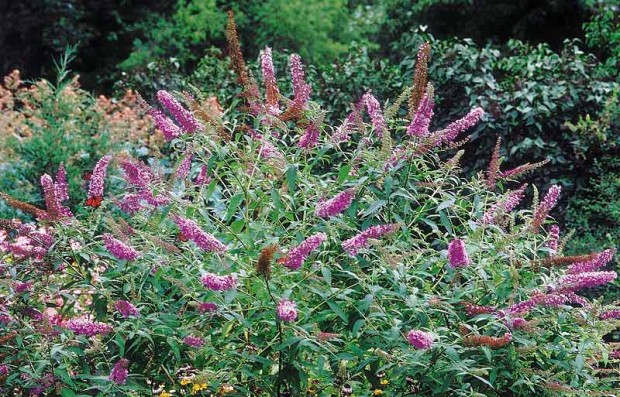 Butterfly bush's (Buddleia davidii) flip side is supportive too. Delphiniums or cosmos grown within its spread can take advantage of this to thread their way up and then stand securely between the stiff branches.
Romantic blue monkshoods (Aconitum species) are certainly sinister on their flip side. It pays to know that eating even a little part of the leaf, flower or root can be deadly. It seems to have been part of some Roman armies' scorched earth tactics to poison water supplies with monkshood, preventing enemy use of those resources.
Common milkweed (Asclepias syriaca) has a playful flip side. The foliage is well known as Monarch butterfly caterpillar fodder and the hemispherical clusters of pale purple flowers add color and fragrance to a wild garden. But watch a butterfly sipping nectar from an individual flower in that purple globe. Notice that the close-set ring of upward-facing petals parts easily and the butterfly's foot slips in. The ring then closes tightly, forcing the butterfly to yank-step, as we might labor to reclaim our foot from deep, sticky muck.
All of the milkweed plants play this game. I can't help but think there were other ways to insure that a pollinator's foot came into contact with pollen, but this group of plants have a character that prefers to work by practical joke.
The "B" side of every plant is there to be observed, or it can be discovered while exploring plant encyclopedias for word of your garden favorites, or you might just piece it together over time from conversations like this between gardening friends. Dig a little deeper into your garden's flip side this year for the fun of it, for a mind-expanding game, or to learn more rewarding ways to grow and use your plants.
Janet Macunovich is a professional gardener and author of the books "Designing Your Gardens and Landscape" and "Caring for Perennials." Read more from Janet on her website www.gardenatoz.com.