Al Cooper's pond and koi keeping tips
by Sandie Parrott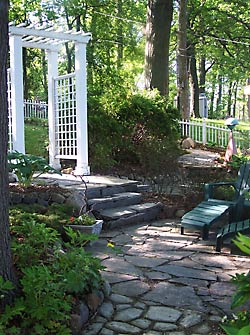 Sandie Parrott
Cooper added this classic white arbor last summer as well as another path.Al Cooper has kept a dozen koi in his 10- by 14-foot by 3-foot deep pond, fed by a waterfall, for almost ten years. Two of the koi have names: Nemo, named by granddaughter Kylie because it is orange, and Shamu, a large fat fish named by Al. Some of the fish have reached 12 inches while two are babies that replaced two snatched by a raccoon.
If you are thinking of keeping koi, Al recommends you read and study several sources before buying your first one. Here are a few of his tips.
Al fattens up the koi at the end of summer to prepare them for hibernation using a high protein hard pellet by Pond Ten.
"I use two air bubblers during the winter to keep the pond from freezing and I don't feed them from November or December (whenever temperatures go below 50 degrees) to April while they hibernate." If the pond freezes over in extreme cold, he adds, "You must make a hole in the ice or the fish will die."
"When temperatures reach 50 degrees, usually in April, I start feeding the koi with a small (easily digestible) spring feed."
Al uses Tetra food for regular feeding during the summer.
"The rule of thumb is to feed them all they can consume in five minutes. I extend this up to ten minutes because the fat fish, Shamu, can eat half of the food." Shamu is almost taking food from his hand; maybe this year. Feeding them too much is dangerous because their waste can overload the biological filter, causing an ammonia spike that can hurt or kill koi. They can also become obese and suffer related health problems.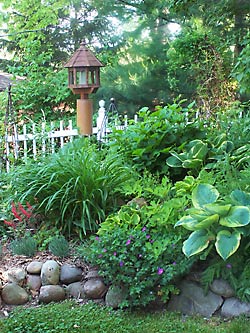 Sandie Parrott
Hostas, daylilies, perennial geraniums and much more grace this rock garden anchored with a large bird feeder."I turn the waterfall off during feeding so the food is easy to get. It floats on the surface and it's easier for my two smaller koi to feed without the turbulence of the water."
"I clean (back flush) the skimmer in the pond every two to three days depending on the temperature and how the pond looks." He emphasizes the importance of keeping the water clean with no green algae.
Al explains about the biological filters, "On July 4th every year—so it is easy to remember when I did it—I clean the bio filters for the waterfall. I actually only clean two of the filters and leave one dirty to allow helpful bacteria to remain." He rotates the filters so he can remember which ones were cleaned.
Two koi were taken by raccoons, but Al hasn't started using netting yet. That will be the next step.
Cheryl Cooper's
super easy rhubarb crisp
Preheat oven to 375 degrees.
4-5 cups chopped rhubarb, you can add fresh raspberries if you like
1 cup sugar
3 T. flour
Combine and put in a greased (vegetable shortening) 9 x 13 pan.
1 cup brown sugar
1 cup old-fashioned (not quick cooking) rolled oats
1-1/2 cups flour
1/2 cup real butter
1/2 cup vegetable shortening
Cut butter and shortening into brown sugar, oats, and flour mixture to form crumbs. Sprinkle on the top of the rhubarb mixture. Bake for about 40 minutes until lightly browned. Serve warm with ice cream or whipped topping. Serves 10-12 people.