More stories about enthusiastic gardeners in the Westacres community:
Photos by Sandie Parrott
Mary Beth Ridenour's trumpet vine (Campsis radicans) is around 80 years old. It was moved from a previous home where it grew for many years.
Mary Beth Ridenour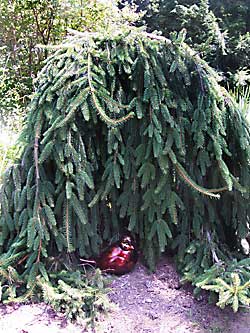 Ridenour's husband planted over 50 trees and conifers in the originally sparse yard. Just for fun, a red bird relaxes in the arms of this weeping Norway spruce.Dramatic conifers, trees, a bridge, and a giant 80-year-old trumpet vine (Campsis radicans) make up Ridenour's garden. The vine was moved from a previous house. Concerning its care she said, "I just prune it a little, nothing else. It is just in the right spot—hummingbirds love it."
In 1971, Ridenour moved into her house that was originally built in 1935. She lived two miles away, rode the Westacres bus and wanted to live in the neighborhood. She attended a meeting and found out a house was available. "No outside advertising was done back then; only word of mouth," she remembered.
"It was Bill's garden (her husband, now deceased). I never gardened until he died. There wasn't a tree on the property when we moved in. Bill planted all of the trees, about 50. He also built the wooden bridge. I wish I had gardened sooner. I enjoy it now," she enthused.
Margie and Mick Popovich
In 1986 Margie and family moved to Westacres to a house built in 1936. "My husband grew up on a farm and had his own ideas about where we should live. I went to school with kids from Westacres and always envied their lifestyle. When we looked at our house, the previous owner (the original resident) had an enormous garden, and the deal was done," Margie recalled.
Husband Mick is the gardener. Margie claims Mick wears boots from May to October. "He is happiest when he is putzing outdoors. I love going out to the yard with a basket to pick my own vegetables. A basket of corn with basil and tomatoes, or flowers for the house, it just completes me. He does all of the vegetable gardening and I have never seen a prettier, more organized vegetable garden," gushed Margie.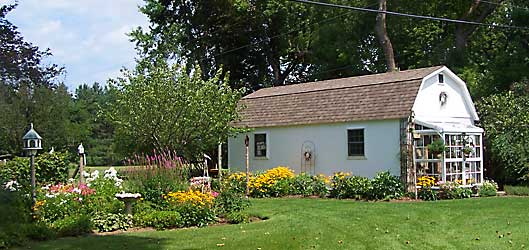 Margie and Mick Popovich's garden and barn create a country view in a suburban setting. Mick built the greenhouse and incorporated windows he found in the trash along the road.Mick offers a tip for pests: "The only pest control I do is attracting wrens—they are tremendous insect eaters. We have several wren houses. I always look for them to return in the spring and love the way they sing. Crop rotation is also important. Besides that, a few bugs don't bother me as much as chemicals do!"
Margie continued, "It isn't unusual to be standing in the kitchen and hear, 'Hi Margie and Mick,' because neighbors are in the garden picking strawberries. We give a call when they are ripe: 'Come when you like—just lock the gate.' Kids come and go; I look out and see them picking berries and think life couldn't get any better!"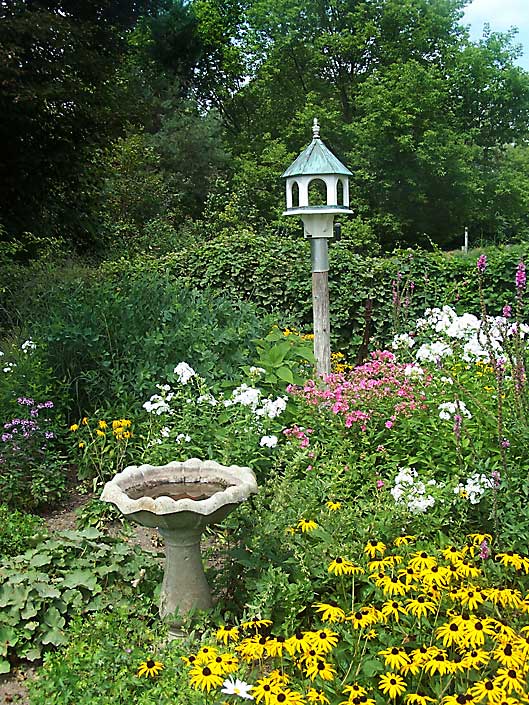 This lovely vignette displays a birdbath, picturesque birdfeeder, and Margie's favorite flower, black-eyed Susan.
Mary and Joe Fox
Mary Fox gardens for her family and also their CSA farm (Community Supported Agriculture). "My dream is to feed the community! I'm trying to encourage people to eat locally. I garden using organic practices. With demand increasing, I need more space. My neighbors are donating their backyards for me to farm (an original idea by the creators). My goal is to feed my 20 CSA members, sell lettuce, salad greens, herbs and edible flowers, with the surplus going to food banks," explained Mary enthusiastically.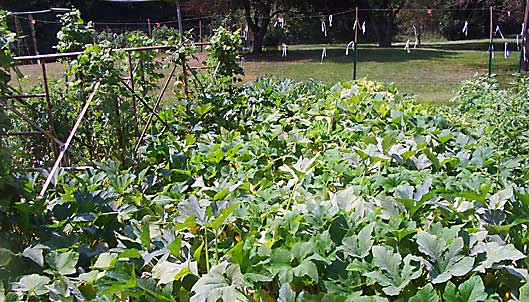 A section of the CSA farm (Community Supported Agriculture) owned by Mary and Joe Fox. Mary promotes eating locally-grown food.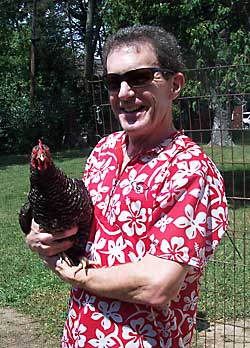 Joe Fox shows off one of his ISA Brown chickens.She continued, "My CSA shareholders also can purchase eggs from my pastured chickens. If West Bloomfield allows me to continue what I'm doing with gardening and chickens, it will be preserving the legacy of Westacres. It would take Westacres full circle from Depression era residents in 1936 to recession residents in 2011; quite a tribute for Westacres 75th anniversary."