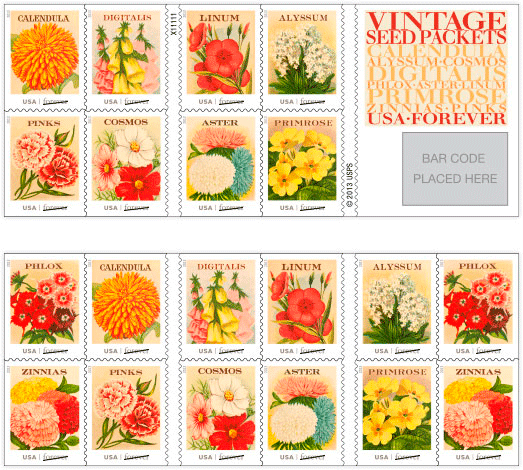 The U.S. Postal Service recently released new stamps with vintage seed packet artwork. These first-class forever stamps are based on photographs of seed packets from a century ago.
Created using chromolithography—a process that replaced hand-tinted lithographs and allowed for inexpensive multi-color prints—the illustrations originally graced the fronts of flower seed packets printed between 1910 and 1920.
Each of the 10 stamps depicts blossoms of one variety of flower: a trio of cosmos in delicate white, pink, and red; stalks of yellow, pink and coral foxgloves; bright yellow primrose flowers with orange centers; a vibrant orange calendula; white, pink and blue aster blooms; one pale and one dark dianthus; linum blossoms in a rich red; white drifts of alyssum; clusters of phlox in red, pink and purple; and pale pink, subtle yellow, and muted orange-red zinnia flowers.