Text and Photos by Jean and Roxanne Riggs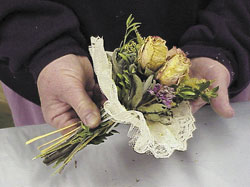 History
In Victorian times, the popular handheld bouquets did more than just look pretty. They were called "nosegays" and they were filled with fragrant herbs and flowers. Their main purpose was to hide the foul street odors of cities and towns. It was also thought that many of the herbs would provide protection against fainting and disease, sort of the smelling salts and aromatherapy of days gone by.
The lovely collections of fresh or dried leaves and flowers were given meanings and they became a form of communication. These bouquets were called "tussy mussies" and were given to friends, lovers, and even enemies with appropriate sentiments in the language of flowers. Of course, both the giver and the receiver had to use the same reference list of floral meanings, since some lists were different than others, and both the bouquet maker and the person reading the floral message had to be able to identify the plant material before they could decipher the proper response.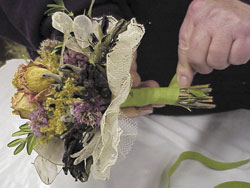 Plant meanings
Many of these plant meanings have been carried on in the names of the plants. Some of the more common ones that gardeners know are forget-me-not (Myosotis) which means, "Do not forget me!" or true love; love-in-a-mist (Nigella) which means perplexity or "I'll see you in my dreams!"; bachelor's button (Centauria) which means single blessedness; Johnny-jump-up (Viola) which means happy thoughts; love-lies-bleeding (Amaranthus) which means hopeless but not heartless; frilled panties (Protea) which means risqué; thrift (Armeria) which means thriftiness; and my own self-explanatory favorite, kiss-me-over-the-garden-gate (Polygonum).
For the wedding bouquet there are herbs, charms, and the symbolic ribbons in which knots are tied to hold good wishes for the bride and to indicate the oneness of marriage, as in "they tied the knot." Modern bridal bouquets include orange blossoms to represent the sweet and innocent bride herself, lilies-of-the-valley to signify the return to happiness, ivy to show wedded bliss and to prevent hangovers after the parties, and orchids for beauty and refinement. Heather might be added for luck, and the silver honesty pods as a wish for money in the bridal couple's pocket. Rosemary blesses the wedding and reminds the bride to remember her family. Myrtle blesses the bride and bay is a blessing for the groom. The red rose or the white bridal rose is for love, and lavender is for domestic bliss and loyalty. The old poem, author unknown, says "Here's Thyme to give you courage and Rosemary for the past, Sweet Lavender for a loyal heart and Rose, a love to last; Sage for a life that is long and brave, Mint to quicken the brain, Violets to ward off evil ones and Basil to cure the pain. Then for fun and fragrance Southernwood will do; and Lemon and Ginger mean a Sixpence in your shoe."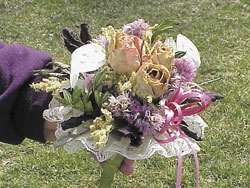 Tussy mussy materials & plants
It is not difficult to make a nosegay or tussy mussy. The hardest part of the whole process is collecting all of the materials that are needed. Before you start gathering the flowers, you will need to have your construction tools ready. You need a good sharp pair of garden scissors for the plant material and an all-purpose pair of cutters for everything else. Lace for the backing is especially pretty and traditional. The backing can be a wide lace ribbon gathered to fit the size of the stems in the bouquet, or a lace doily cut in the center with an "X" to accommodate the stems, or a paper doily cut with the "X", or a ready-made backing available at craft stores and wholesale florists, usually in the bridal department. If you want to keep the plant material fresh, there are bouquet holders with a plastic handle and a built-in holder for the water-filled spongy stuff. Floral tape to wrap the stems and ribbons to tuck into the bouquet are good finishing touches. Florist's wire or pipe cleaners make tying the bows quicker and easier. A hot glue gun or a white crafting glue is good to have on hand in case you need to add extra bits of flowers or greenery to fill in a bare spot or repair a broken stem.
There are also nosegay holders, available in some antique stores in their original ornate styles or in present day forms in florists and specialty shops. The antique holders are getting more and more difficult to find and are quite expensive, but the new ones are more common and are reasonably priced.
The next thing to do is to decide what flowers and plant materials you need to use to express your message, and collect them together. The simple messages are easier to translate into flowers. Whatever your message, be sure to include a card telling the recipient what the flowers are and what they mean because most people these days don't have a dictionary of floral meanings.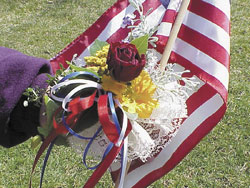 Tussy mussy samples
We have made two tussy mussies with different meanings. The first one is "Good Wishes for Your New Venture" and has basil for good wishes, boxwood for strength, chives for usefulness, goldenrod for encouragement, honesty (Lunaria) for wealth, mint for a clear mind, sage for wisdom, and roses for congratulations and friendship. It is made from dried materials, so it will last a long time.
The second one is a patriotic tussy mussy. It is made of fresh herbs and flowers, but if it is hung upside down most of them will dry so that it too will last. It says "I'm Proud, and Very Glad, to be an American" and has a red rose for love of country, yarrow for victory in any war, nasturtium for patriotism, violets for loyalty and devotion to our country, bay leaves for glory, thyme for strength and courage, and santolina to ward off evil.
With the knowledge of floral meanings, you can make bouquets that say many things like "Happy Birthday," "Thank You," "I Love You," "Welcome," or even "Too Bad About your Hangover." Such fun!
Symbolism of Some Herbs, Plants & Flowers
Agrimony – Thankfulness
Allspice – Compassion
Basil – Good Wishes
Balm – Sympathy
Bay – Glory
Borage – Courage
Boxwood – Strength
Broom – Humility
Burnet – Merry Heart
Chamomile – Patience
Chervil – Sincerity
Chives – Usefulness
Cloves – Dignity
Cockscomb – Affectation
Coriander – Hidden Worth
Corn Straw – Agreement
Dock – Patience
Edelweiss – Perseverance
Fennel – Flattery
Fern – Sincerity
Globe Amaranth – Unchangeable
Goldenrod – Encouragement
Hens and Chicks – Welcome Home No Matter How Drunk Ye Be
Holly – Hope, Divinity
Honesty – Wealth
Hops – Injustice
Horehound – Health
Hyssop – Cleanliness
Johnny-jump-up – Happy Thoughts
Larkspur – Cleanliness
Lavender – Devotion, Wedded Virtue
Lamb's Ears – Surprise
Lily – Purity
Linden – Matrimony
Lady's Mantle – Comforting
Love-in-a-mist – Perplexity
Marigold – Grief
Marjoram – Joy, Happiness
Mint – Eternal refreshment, Virtue
Mugwort – Be not weary
Nasturtium – Patriotism
Moss – Maternal Love
Myrrh – Gladness
Myrtle – Love
Olive – Safe Travel
Oregano – Substance
Pansy – Thoughts
Parsley – Festivity
Peppermint – Warm Feelings
Pine – Humility
Rose – Love
Rosemary – Remembrance
Rue – Grace, Clear Vision
Sage – Wisdom, Immortality, Virtue
Santolina – Wards off Evil
Savory – Interest
Scabiosa – Unfortunate Love
Southernwood – Constancy
Spearmint – Warm Feelings
Veronica – Fidelity
Tansy – Hostility
Tarragon – Lasting Interest
Teasel – Dislike of People
Thistle – Austerity
Thyme – Strength and Courage
Valerian – Readiness
Verbena – Delicacy
Vervain – Enchantment
Violet – Loyalty, Devotion
Wheat – Riches
Willow – Sadness
Wormwood – Absence
Yarrow – Victory in War
Woodruff – Humility
Jean and Roxanne Riggs operated Sunshine Farm and Garden in Oakland County, MI and now enjoy retirement up north.