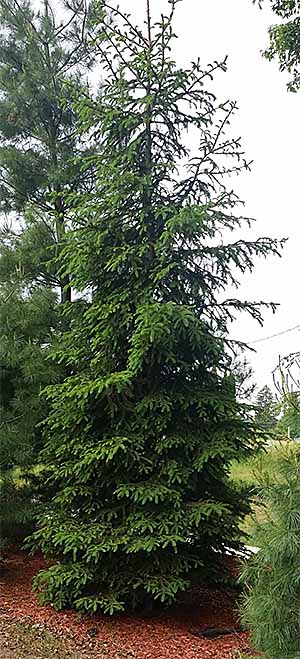 At our upcoming wedding, we want to give a seedling or plant as a wedding party favor. We need suggestions as to what tree or plants can be planted in Michigan in September. Since there will be about 500 guests, the price of each plant must be relatively low.
Congratulations on using a plant as a wedding party favor! One of the best choices for fall planting, and a Michigan native, would be a white spruce (Picea glauca) seedling. These strong conifers transplant easily, and tolerate a wide variety of soil types and sun conditions. They are used for windbreaks, lumber, and sometimes Christmas trees. They have a strong conical form and hold their limbs out horizontally. The dense branching provides shelter and food for birds and other wildlife. What a fitting long-term remembrance of your wedding.
Understanding the large quantity, you want to deal with a local wholesaler/retailer that can offer a practical price. Consider Cold Stream Farm in northwest Michigan (www.coldstreamfarm.net). Please remember that 500 seedlings will likely be prepared in bulk. You will have to separate them and individually wrap their roots in a moisture-retaining mulch and secure in a waterproof sleeve. Therefore, timing your order is important so that the seedlings are not stored indefinitely. Once received, you have approximately one week to separate, rewrap and distribute. Prepare a tag for each tree that tells guests to plant as soon as possible and the optimum soil and light conditions.