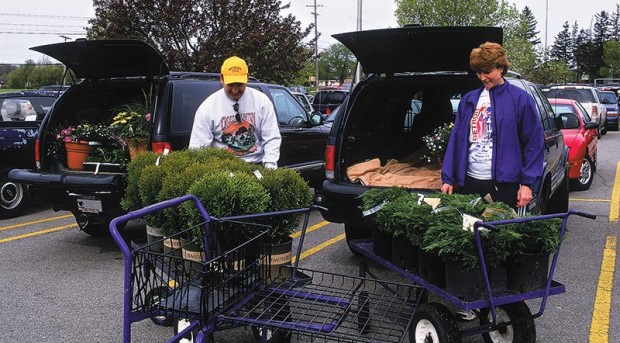 All the signs are there. Fast food wrappers, cell phones, toiletry kits, children's toys, recorded books and dozens of other items. A vehicle's standard inventory tells it all—we live in our cars. Since two out of five Americans professes to gardening as a primary hobby, it shouldn't be surprising that spades, pruning tools, plant identification texts and earth-stained gloves are commonplace in cars. That basic kit allows the average gardener to lend a hand at the in-laws or the subdivision entrance, and take advantage of roadside floral events.
For an increasing number of horticultural enthusiasts, that basic kit isn't enough. Approximately 5,500 Master Gardeners are active in Michigan at any one time, volunteering about 200,000 hours a year at parks, schools, civic areas, farm markets, demonstration gardens, hospital therapeutic gardens and more. Other such programs enlist gardeners in growing and almost uncountable numbers – 350 official volunteers at The Detroit Zoo, for instance, are adept at sweet-talking family and friends into packing the necessities and meeting up at the zoo for a day of gardening. These are serious gardeners on wheels, packing garden carts, plants, mulch and assorted power tools.
That makes the car the ultimate garden tool. So of course some people have begun to seek, design or wish for the deluxe model. Others use ingenuity to turn everyday wheels into garden hybrids. And some must work undercover to take their passion on the road.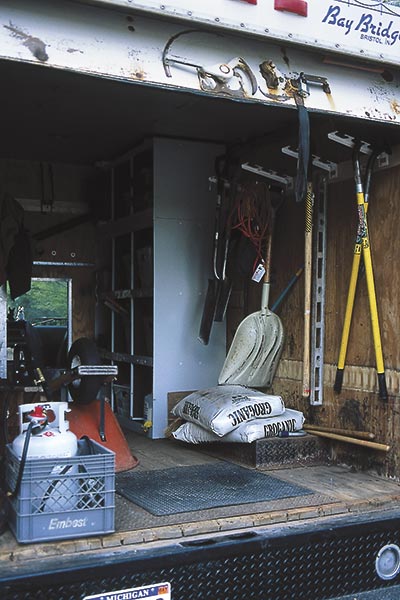 The deluxe model
Some gardeners give tours of their garden. Deb Hall gives tours of her garden vehicle. It's a "cube van," a tool shed on wheels that can also transport dozens of flats of flowers, enough trees and shrubs to plant an entire backyard or construct a water garden complete with fish. When it was time to retire her previous vehicle, Hall says, "I decided to get it for convenience, so I wouldn't have to haul a trailer. I don't handle trailers very well, but I wanted to get things done without making two or three trips. I also realized if I had it, I could be more organized because I could shelve things. It's been fun, a growing thing, to learn even better ways to keep things organized."
Hall's van is the envy of other members of the Association of Professional Gardeners, such as Sharon Cornwell. "I love her truck!" says Cornwell. "Every tool has a spot. I'm sure she'll even come up with a shelf unit so she can carry tons more flats of flowers. And it's a great place for the whole group that's gardening together to eat lunch. You all get in back, sit Indian style and chill out for a while!"
Ingenious hybrids
Brenda Sutton of Redford takes her gardening skills on the road several days a week and likes to be ready for everything. She considers what to take along each day, which revolves around some "regulars," tools that can be used for most basic chores—spade, garden fork, trowel, pruning shears and a weeding tool. Although the Saturn's back seats can fold down, making room for long-handled tools, the cargo space still won't handle a wheelbarrow. That's why Sutton includes a five-gallon bucket and a small tarp on her list of regulars—together they can take the place of a wheelbarrow.
Judy Jacobs of Franklin trundles tools and supplies around the Detroit Zoo in a red wagon. That's not unusual among the adopt-a-gardeners, but it is unusual that all of Jacobs' gear arrives at the zoo in her convertible. Not a car most people would want to see exposed to the elements, so to speak.
Tips for using your vehicle to haul plants and garden tools
Cardboard boxes that can be folded flat when not in use are handy accessories. Flattened, they can line a trunk or interior to keep it mud-free beneath plants or tools. They can also fit vertically next to tools to prevent gouged interior molding. Boxed, they can hold several potted plants to prevent tipping.
One or two disposable rain ponchos take up almost no room in a glove box or trunk, are always handy for the gardener, and can double as seat protectors under plants.
Elastic tarp straps also take up very little space but are indispensable for securing items that might shift.
Thick string is a great asset. It can stabilize loads and, gently used, can wrap around and compress plant crowns to half their actual size, or less.
If you put in a water garden with a flexible liner, save the scraps of liner. Bigger bits are excellent for lining a trunk and small scraps, placed between stacked bags of mulch or soil, create a non-skid surface to reduce the chance that heavy bags will slide onto adjacent plants.
A wide plastic spackling knife is useful for scraping tools clean before packing them back into the car.
Old canvas and cloth tote bags can be slipped over the blades of metal tools to prevent scratches to a car's interior and to catch flaking dirt as well. Used this way they also muffle the telltale metallic clanking.
Open the windows if you must leave the car when it's loaded with plants or bagged materials, to prevent condensation on interior surfaces.
In standard cars, load very heavy things first, pushing them toward the front of the vehicle to avoid weighing down the car's back end. In a truck or bigger SUV built to handle heavy loads, put the weightiest things in last so you won't have to slide them so far to unload them.
"I really enjoy my little car but I also need to take my garden tools around town – to my kids' homes, the zoo, and to places where I work as a garden coach. So I took a good look at what I needed and worked out this system," explains Jacobs. "With the top down and a tarp on the back seat, I can load the wagon and tools without leaving a mark. Plants can sit right in the wagon and there's no danger that they'll tip, which isn't good for the plants and not so hot for the car's interior either. And as long as I keep the outside of my bucket clean I can carry it right on the front seat, filled with all kinds of hand tools.
"My system does have its limits. Lately, I'm doing more and bigger gardening projects, and I have used my husband's car more often—something he's not too pleased about. He told me, 'If this keeps up, you're getting a truck!'"
Kurt and Garnet Bowden of Oxford came prepared to the garden center one day this spring. "We do lots of home improvement things – that's one reason we both drive SUVs," says Garnet.
Landscaping projects are annual events at the Bowden house, she adds. "This time we were redoing all along the front of the house. We tore out everything that was there. It was kind of an afterthought, as we got ready to go to buy plants, that maybe we should take both vehicles. We're glad we did – we fit a whole bunch of evergreens, lots of flowers and a couple of trees in there. Kurt's the packer. I just stepped back and let him go. When we get home we'll just drive around the yard delivering everything where it belongs. The SUVs are our four-wheel-drive wheelbarrows!"
Undercover but on the road
Sometimes we drive borrowed or rented vehicles, or a car that significant others in our lives have designated off-limits for gardening ventures. Yet horticultural opportunities crop up at unexpected times. When that happens, what we've learned in sanctioned garden-mobiles can pay off in spades.
D prefers to remain anonymous, the better to protect her secrets from a disapproving spouse. "If I see there's a good deal at the nursery but I'm in his car, I work fast and use lots of plastic to avoid leaving any evidence. I also take a careful look before loading up, to be sure I can remember exactly where everything was to begin with, so it all ends up in that same order once I'm done. Once I found a great rock—we're always looking for good rocks along the side of the road—but all I had was his car. I put it in an old bowling bag to get it into the car without scuffing the exterior or interior. If it was bigger than the bag I would have had to wait until he was home, and we'd go back for it in our van. But then the rock might have been gone!"
D's daughter K says, "It's funny. They both agree the van is okay for gardening stuff. When the two of them are driving, they're always on the lookout for rocks and they're so cute when they find one. They carry this old towel just so they can roll a big rock onto it and lift it together."
Perhaps what you've seen and read here will come in handy when you pack for your next gardening field trip. But every time you get behind the wheel, keep at least this last thought in mind. Since forty percent of the population has garden fever, many of the cars around you at any given time are being driven by gardeners. That's a lot of people keeping one eye on the shoulder, studying landscapes and gardens while they drive and taking corners at unpredictable, subdued speeds lest their plants tip. At least a few of them may also be prone to sudden starts of alarm when shifting boulders go 'thud' in the trunk. So always be prepared for unexpected moves by fellow mobile gardeners, and do your own garden packing carefully so you can keep your attention on the road!