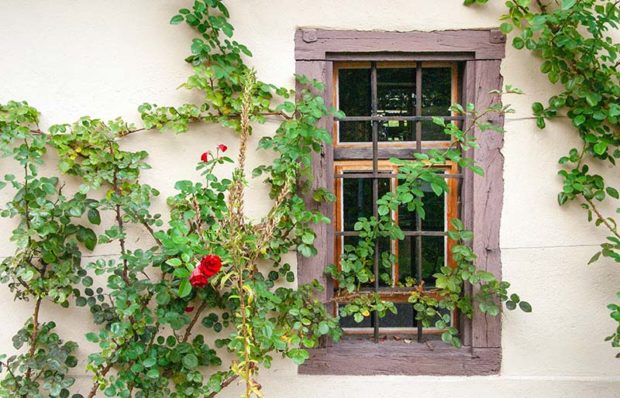 Last October, I transplanted two climbing roses and a standard rose bush. What should I be doing for them this spring?
There are four basic tasks for transplanted roses. First, carefully remove winter protection about the time you see crocus and tulips emerging from the ground. That indicates the ground temperature is warming slowly and your roses will be taking up moisture soon. If any of your roses were grafted, expose the graft union and check for growth buds on the rootstock (below the graft). You do not want to encourage these rootstock sprouts—remove them. On your climbers, if you have laid the canes down on the soil and covered them up, now is the time to uncover and gently lift the canes up and attach them again to their support structure.
The second task is pruning in April, when you start to see bud swell on the canes and branches, or around the time forsythias bloom. Remove dead branches and prune for air circulation, crossing branches and aesthetic cane length based on the supports.
The third step is their first feeding, which can be done at pruning time. A general slow-release fertilizer blended for roses is great. Spread it at the dripline and gently scratch it into the soil. Roses are heavy feeders. Many rose growers use organic supplements, such as fish emulsion or additional slow-release granular fertilizer, once a month until August to keep them healthy against disease and insect attack.
Lastly, as the roses start to push out leaves and new growth, apply a preventative spray for fungal diseases like black spot. A horticultural oil spray later in May into June can help with insect problems.