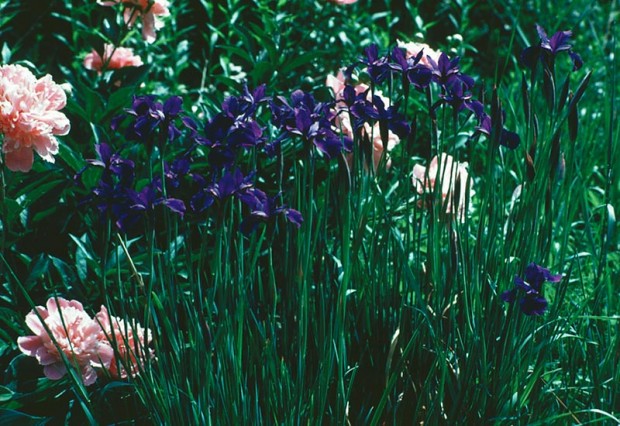 by George Papadelis
Peony and Siberian Iris are two outstanding perennial partners that complement each other beautifully in both flower and form. In early May, both plants develop fresh foliage that looks just as handsome in the coldest days of fall. Peonies produce roundish bushes of sturdy, bold, olive-green foliage while Siberian iris yield long, slender, vertical blades of a more bluish green. This contrast of textures creates a pleasant effect that is too often overlooked when combining plants. Most gardeners consider flower color, flowering period, and height during the planning stages, but texture is too seldom a concern.
By late May, peonies and Siberian iris have reached their full height of 2 to 3-1/2 feet and both are beginning to bloom. Try the pink peony blossoms of 'Sarah Bernhardt' with the violet-blue blooms of Iris siberica 'Caesar's Brother.' For an even showier effect, underplant with the non-flowering lamb's ears (Stachys 'Silver Carpet') or any other silver or white plant. This gorgeous display should last 2 to 3 weeks depending on when the rain disintegrates the peony blossoms. The use of peony rings or stakes will prolong their effectiveness. By late June, the flowers have ceased on both the peony and Siberian iris, leaving behind handsome foliage.
Both peonies and Siberian iris are readily available and offer many varieties from which to choose. They are also long-lived, easy to grow, will tolerate almost any soil, and prefer a full to part sun location. So, for a showy spring display of color and a season-long contrast of foliage, try this combination and reap the rewards for years to come.
George Papadelis is the owner of Telly's Greenhouse in Troy, Shelby Township and Pontiac, MI.