'American Gold Rush' black-eyed Susan boasts a long season of bright color, from the height of summer up to fall frosts. Golden-yellow flowers feature arching rays and a reddish halo surrounding dark chocolate cones. Three-inch flowers blanket the compact plant, only 22 to 27 inches tall with a broader width to 40 inches if given room to grow. The green leaves and stems are covered in hairs, which gives them a silvery cast. On sunny days, peeking through the blooms to the leaves is a shimmering silver-and-gold sight.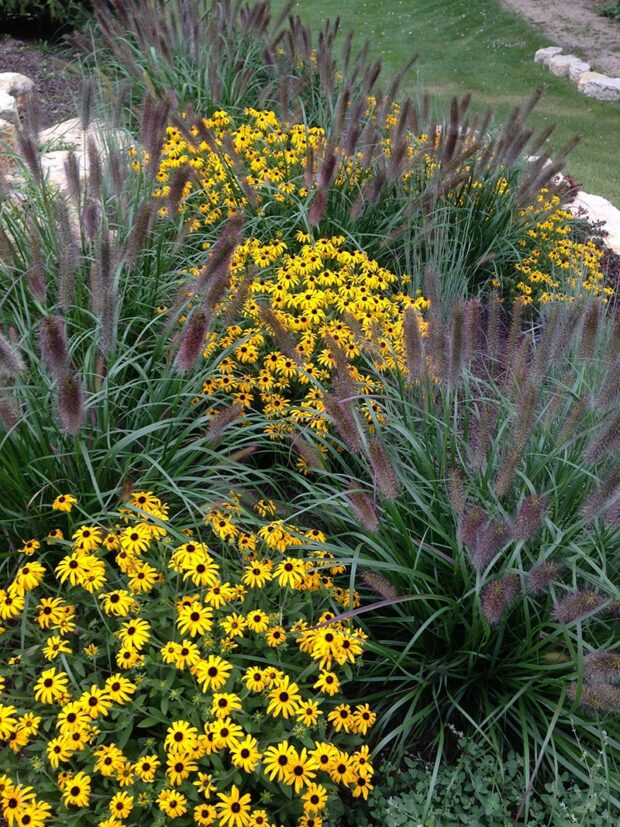 More than just boosting the ornamental show, the hairy foliage is resistant to septoria leaf spot—a debilitating fungal disease that causes unsightly black spotting and premature seasonal decline on some black-eyed Susans. In fact, 'American Gold Rush' is a great substitute for the popular 'Goldsturm' rudbeckia, which is highly susceptible to leaf spotting.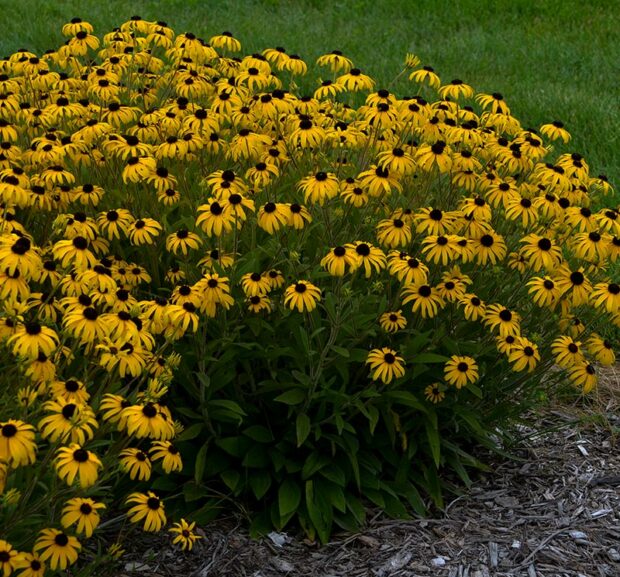 A reliable, hardy perennial, 'American Gold Rush' is a superb focal point in perennial borders and meadows, and is also brilliant when massed. Butterflies flutter around the blooms and songbirds feast on the plentiful seed long after the flowers have passed. The seed heads provide winter interest too. Garden companions are many, including alliums, asters, salvias, and native grasses such as little bluestem (Schizachyrium scoparium) and prairie dropseed (Sporobolus heterolepis).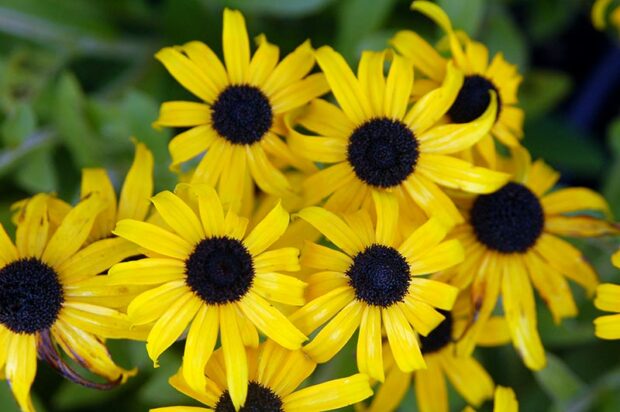 ---
'American Gold Rush' black-eyed Susan
Botanical name: Rudbeckia hybrid
Size: 22-27 inches tall and up to 40 inches wide.
Light: Full sun to partial shade.
Soil: Average, well-drained soils. Adaptable to clay, alkaline or acid pH, and gravelly soils. May flop in rich, fertile soils.
Hardiness: Zone 4.
Maintenance: A low-maintenance perennial. Cut back in late winter to early spring. Good heat- and drought-resistance once established. Reseeding does occur. Divide as needed to maintain a robust habit.
Origin: Originated from open-pollinated seed sown from the seed parent Rudbeckia fulgida var. deamii.
Related: What are some suggestions for deer-resistant plants?