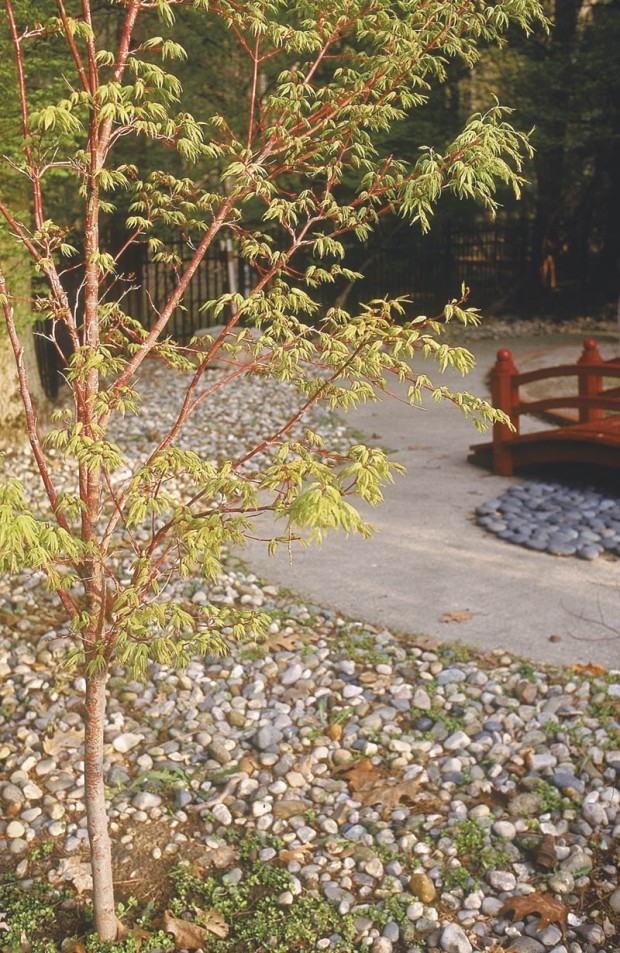 Where's a good place to buy…? It's a simple question, ending in the name of a flower, tree, tool or material used in the garden. When people ask, I know they want a simple answer, such as, "Flo's Flowers on the corner of Main and Fifth Street." Yet there's a lot that goes into the definition of a good garden center.
First things first. Michigan is, in general, a great place to buy just about anything for the garden. I travel to garden for clients in other regions, speak at conferences, and for fun. Some people make it a habit to sample regional cuisine in their journeying. I check out garden centers. My count is now 18 states and 5 countries shopped, yet Michigan's nurseries remain top on my list, with equals but no betters.
Perhaps we can thank our long-established garden centers for that, for setting the bar high for all who set up shop here more recently. Maybe it's the savvy of a few managers who are influential in the field, who lead the way in taking the best of what they see and bring it here to us. Or it may be a combination of many factors including customer sophistication and demand. Regardless of why, I'm very glad that it is the case and hope that you, too, recognize and respect it.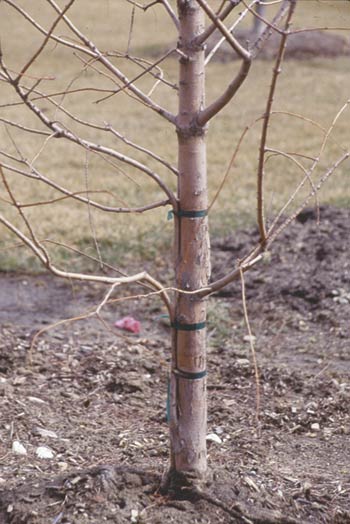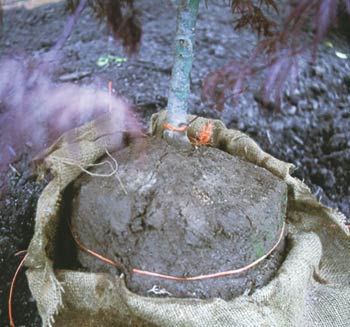 Show me the way to my prize 
Now, on to specifics. The first thing I look for when I walk into a garden center that's new to me is organization. Can I tell where to look for the item I'm seeking or is the layout such that I have to find someone and ask for help? If you think that's a given, that's because you're from Michigan and you're spoiled.You won't often find here the unfathomable clutter that sometimes confronts and confounds me on buying trips in other states. I look for guideposts as soon as I walk in, which may be signs with arrows, maps of the store layout, or tall and easily seen markers that point the way to "Annuals," "Shade Trees," "Pest Control," or "Water Garden Supplies."
As a seasoned gardener I may be able to discern an organization by looking at the items that are grouped together: "Oh, these are all annuals, so I won't look for perennials here," or "Since everything there looks woody and tall, that must be where all the trees are." But that leaves a lot of room for error. For instance, I may decide that the vine I'm looking for isn't in stock at an establishment when in fact it's there, mixed into the section I decided was "Shrubs" but the management has in fact assembled to display all of its "Tall things for privacy."
Don't roll your eyes. I've seen that kind of organization, and if it's defined it's fine. Having shopped in garden centers where the wares were arranged like the initial assembly of goods donated for a rummage sale, I truly appreciate the garden center manager who not only flags me to a spot with a banner proclaiming "Vines" but also sets up placards within the vine collection saying "More vines inside in the Tropical section."
I can get past a lack of organization, or any one other item on the list I'm presenting you here, so long as the garden center measures up or excels in other categories, the second of which is product labeling.
Love those labels
Those who garden with me have heard me rail as we plant, about "All these blasted tags!" I gripe about them, but I can't live without labels. Imagine shopping in a place where the plants do not bristle with identifying sticks, wear adhesive labels on their pots, or sport plastic bracelets.You can't? Then you've chosen or been blessed with good garden centers so you can't know the frustration of walking aisle after aisle without a clue of what you're looking at, or the disappointment of growing something selected from a group in which only one front-row pot was marked, only to find a year later that it does not bloom the color, aspire to the size or live up to the character described on that marker.
What makes a good label? Common and scientific name, at the minimum. Given those, I can determine for myself the other things I wish could be on all labels: ultimate size, flower color, season of bloom, and any other significant seasonal interest such as fall color or winter berries.
All of the garden centers I love have books available for use by salespeople and interested customers. When I find that the variety of viburnum or species of soapwort for sale at that establishment is not quite the one I set out looking for, I can check for myself, right then and there, to see if the substitution would be a good one. Michael Dirr's Manual of Woody Landscape Plants and Allan Armitage's Herbaceous Perennial Plants are two mainstays of garden center reference materials that also include specialty catalogs and binder-collected magazine articles.
Even though it takes time to figure out if I should go with an alternate, that's fine by me because it's part and parcel of my third criteria for a good garden center: choices.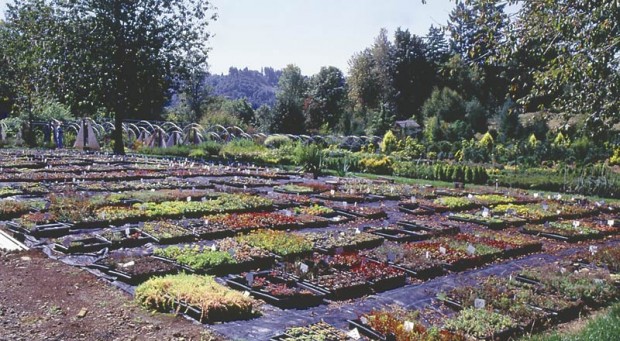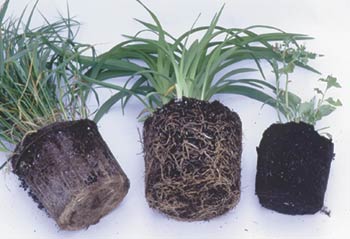 I'm in heaven when I can choose
A wide variety of plants, and various sizes of plant, impress me and keep me coming back.Did you know that garden centers here carry plants that I have not been able to find in Chicago, Boston or Los Angeles, even though they would be great additions to gardens there? Are you aware that our homegrown growers are on the cutting edge of new varieties and resurrected heirlooms? Take it from me, they are. I often drive to Massachusetts or Illinois to work, rather than fly, so I can take plants with me.
Does that mean that we should expect every good garden center to carry everything? No way, no possible way. There are 23,979 species listed in Hortus Third: A concise dictionary of plants cultivated in the United States and Canada. No one carries everything. It's remarkable enough that growers hereabouts manage to grow five or six hundred different species well enough to sell. So it's never a mark against a garden center that it doesn't carry a particular plant.
What good garden centers do carry is a mix of the tried and true alongside the exciting and new. They stock trees and shrubs that are good for ornament as well as those that make a fine hedge or groundcover. They know their perennials well enough to feature more of the ones that they know experienced gardeners will like: non-invasive, long-interest species that may be so slow-growing that they're little more than a collection of leaves after a year or more of growing in the pot, as well as the ones that novices must have: fast-growing, even thuggish creatures beautiful enough in bloom to catch the shopper's eye.
The best carry plants in various-sized containers. There, I can cut my costs on one item by buying four-inch pots while splurging on another in a fifteen-gallon tub. The people who work at that good garden center, the ones who decide what to stock, understand that sometimes I need things with tiny root balls that will adapt more quickly to tough spaces under trees or on dry slopes, and at other times I need the same plants in more mature sizes for immediate fill.
Quality, of course, but second chances mean more
Of course it's a requirement that a good garden center have quality plants, and if an establishment meets the other criteria here, it's likely it has them.
It takes time to learn all there is to distinguish a good plant from a bad one, and along the way you will buy a bad plant or two. My evaluation of a garden center includes plant quality but accepts that living things will sometimes fail. So my measure of excellence puts more weight on grace in the face of trouble. If a plant fails and there is a warranty, does the seller honor that with good cheer, intelligent questions to determine the cause and helpful suggestions? Then that's a good garden center.
Notice that I say "if" there is a warranty. Personally, I don't believe in guaranteeing living things. If a garden center offers a guarantee, fine, but if they offer a reduced price on purchases without guarantee, I'll take the discount because in fact I am the only guarantee that plant has. It's up to me to find a place for it where it will get what those good reference books say it needs to thrive, to plant it properly, then check it regularly to see if it's doing well, and to diagnose problems before they become terminal. If I return to a grower for advice, employ his or her suggestions and don't see improvement, it's my responsibility to follow up with more questions, just as I would with a medical doctor for a physical problem.
At a garden center worth shopping, the staff will work with me to resolve problems. Sometimes we'll win, sometimes we'll lose, but there will be no hard feelings either way as long as those on the retail end give it an honest go.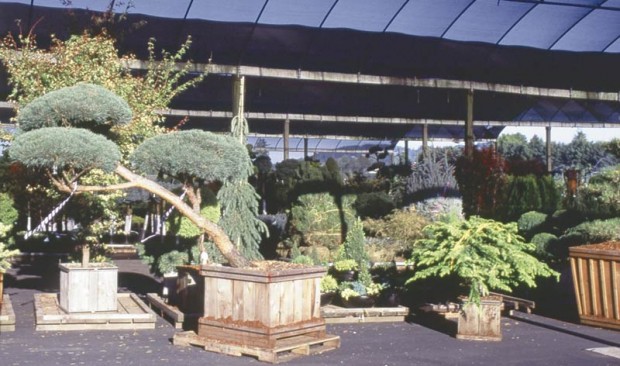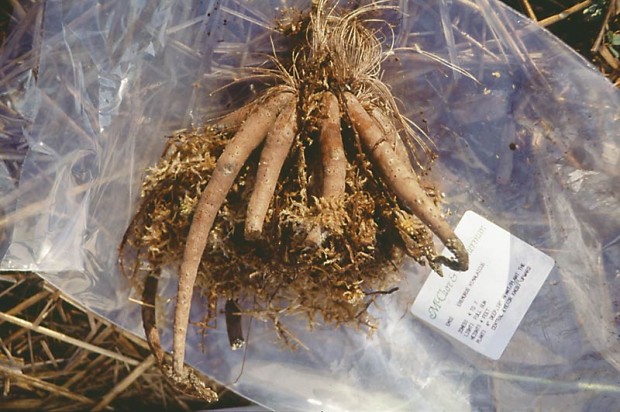 Please understand me
That's my final measure of a good garden center, whether the people who work there understand what it is to garden. Do they know their plants only as they are in the pots or do they know them as mature and even old inhabitants of a landscape or garden?
It's not necessary that everyone on staff is a gardener, but there should be enough of them, in positions of influence, that everyone on staff recognizes that quality as one to aspire to. When new employees see, hear and feel in every aspect of their work that experience counts, they are more likely to seek it themselves, to respect it in their customers and to learn who on staff they should turn to when they need to tap it. At the finest garden centers, by design or chance, the experts on staff are people who can discuss a plant's maintenance, honestly admit its faults and recommend companion plants. They can also say "I don't know" with the assurance that comes from glimpsing the vastness of the gardening world, and "I'll check on that for you" in a way that sets an example of good service for everyone around them. Those who know plants are special, and in Michigan they are the cream of the crop.
Article by Janet Macunovich and photos by Steven Nikkila, www.gardenatoz.com.