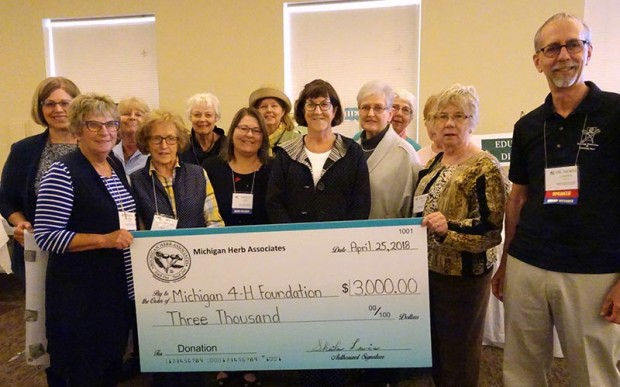 During the 2018 Michigan Herb Associates (MHA) spring conference in Lansing, herb enthusiasts from throughout the state celebrated and learned about herbs. Through a silent auction and herbal plant sale, conference attendees raised $3,000 for Michigan 4-H Children's Gardens. The Michigan State University Department of Horticulture graciously contributed the plants for the auction and sale.
Since its founding in 1987, MHA has donated more than $121,000 to the state's 4-H Foundation in support of three specialty areas at Michigan 4-H Children's Gardens: the Peter Rabbit Herb Garden, Garden of Delight, and Herbal Tea Garden. The gardens are located at Michigan State University in East Lansing.
"We are in a renaissance for edible gardening, and the increased attendance at MHA annual conferences echoes the rising interest in learning how to grow and use herbs," said Jeanne Hawkins, MHA president. "Fresh herbs make everything else in the garden taste better, plus they are pretty and smell wonderful."
Michigan Herb Associates is a statewide organization dedicated to sharing herbal knowledge. To learn more, click here.