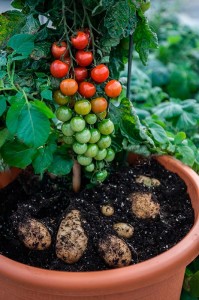 The Salt at NPR :
Love growing potatoes and tomatoes? This spring, gardeners in the U.S. (and Europe) will be able to get both tuber and fruit from a single grafted plant.

It even has a catchy name: Ketchup 'n' Fries.

"It's like a science project," says Alice Doyle of SuperNaturals Grafted Vegetables, the company that's licensing the variety for U.S. markets from the U.K. company that developed it. "It's something that is really bizarre, but it's going to be fun [for gardeners] to measure and see how it grows."

This isn't a genetically modified organism but a plant of two different nightshades: the top of a cherry tomato grafted onto a white potato.

"Tomatoes and potatoes are in the same family, and that makes it feasible," says John Bagnasco, also of SuperNaturals.