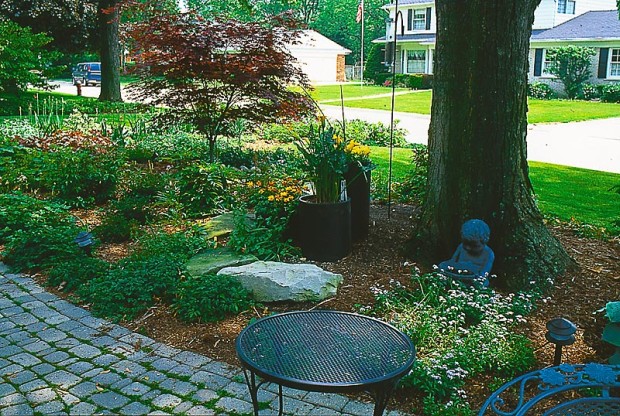 By Janet Macunovich / Photographs by Steven Nikkila
Are you having guests over to see the garden? Great! Let's talk tactics.
Without losing sight of the glory of the moment, fast forward in your mind's eye to the visit. Where are high points and holes going to be? Aim to spotlight the stars and mask fading players.
Difficulty seeing past whatever's in bloom right now? Great stage managers use reference books on perennials to determine what will be in peak bloom for your visitors. A viewer's eye will be drawn to full bloom, i.e. concentrations of color. That's where garden statuary should be placed, companion annuals most carefully chosen, and where advance work with stakes and pest control will yield the highest pay-off.
Pick garden art to work well with the star. For a star that blooms white with hints of pink, recall that retired flamingo. A columnar plant playing the lead? Echo it with smaller columnar accents or contrast it behind a low, wide sculpture. Splashes of gold on the foliage? A golden gazing globe may be just the ticket.
Of supporting annuals, ask for more than color. Select them to complement the star's color, form and texture. If that lead player has daisy shape flowers, use an annual with spiky blooms. Pair upright plants with low, spreading types and large foliage with ferny.
Think about supporting shaky stars now. Don't be one who cries on visit day over storm-flattened delphiniums, and deludes herself that salvation can be found in bundling them up onto last minute stakes, crucifixion style.

Review your garden journals or look up starring plants in a pest control book. To what problems are they prone? Keep a preventive eye peeled.
Back to the bit players who will not be at their best. Aim only to make them presentable. Edit the script carefully so they don't have important lines.
If the plants in question will pass their peak bloom before show time, and if that's before the end of June, they are fair game for hard cut-back, even before they finish bloom. They can be cut back to clean foliage, even to the base. Given three weeks and plenty of water, most will flush out with new foliage—presentable if not stellar. If they don't come back in time for the tour, send in stand-ins. If they never come back at all…that's rare, but it's the price of show biz!
About those stand-ins. Remember that they shouldn't upstage the stars. Better to place pots of neat foliage—houseplants, or perennials not yet in bloom—than call attention to the spot with bright flower color. Never spotlight such an area by underlining it or ringing it with annuals. Few things worse in theater than when all eyes turn to a player whose costume is awry or who can't recall her lines.
Now for last-minute sleight of hand, à la Vita Sackville-West and her stick-on blooms.
Assess the scenery a week before the visit. If a star is failing, grab a wallet and go recruiting. Garden centers have large pots of annuals for such emergencies. Perennials can be cast last-minute, too.
Weeds drawing your eye and raising your blood pressure before the show? Seek a second opinion before you blow that artistic gasket. Some weeds are well known, but some may pass for planned acts. Ask your reviewer—weeds of the unusual type which are also happy and lush may actually pass muster as can't-put-my-finger-on-it perennials. For weeds too type-cast to play the part of a good guy, or too spotty to appear planned, nip them off the day before the big event if you can't dig them out properly. Or cover them with newspaper and mulch. Bare space is better than weedy space.
About mulch. Use just one type throughout the garden and make it dark and fine in texture. Cocoa hulls are great, but using them for a large garden can be costly. As an alternative I use composted woody fines or double shredded hardwood bark.
Turn the water on the night before the visit. A chorus line of dark mulch and clean, moist leaves can carry most any show.
For that worst emergency, where an area must be cleared and replanted shortly before a visit, plant simply. Go for elegance rather than splash. Don't plant regimented rows but clusters of 3. For example, given room for 15 salvias on 6-inch centers, I plant 5 tight clusters of three instead, and give each cluster more space around it than I would give a single plant of its type. The individual plants will maintain glowing good health since they have space to root outward from their cluster, yet have more immediate visual appeal as triplets. Between different types of plants, leave bare space. So if you're planting a bed with salvia, snapdragon and lantana, and cluster-planted salvia at eight inches between clumps, leave 20 inches of open space between the snapdragon area and the lantana area. Dark, mulched soil will outline each mass, accentuating its difference from the other.
Finally, enjoy the visit. Play your part. Allow yourself to be taken in by your own tricks. Don't apologize for flaws—your guests probably won't even notice them if you don't point them out. Do gush over your successes!
Janet Macunovich is a professional gardener and author of the books "Designing Your Gardens and Landscape" and "Caring for Perennials." Read more from Janet on her website www.gardenatoz.com.