I am looking for a flowering shrub to go along a 6-foot high white fence. I would like it to grow to 3 feet wide and 2 to 3 feet tall.
There are several possibilities that can be maintained to size with relative ease. Planting in front of a white fence reflects heat on the plant. That heat can accelerate flower production but also dry out the soil sooner. Flowering shrubs need a minimum of 6 hours of sunlight each day and consistent watering. Use mulch to minimize water loss. The soil should be loamy and enriched with compost.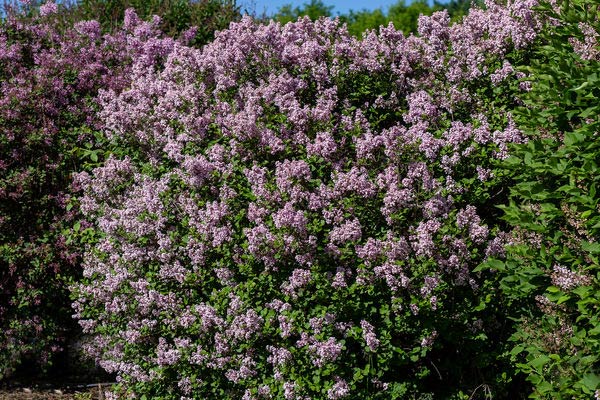 Dwarf Korean lilacs (Syringa meyeri 'Palibin') bloom mid to late spring with highly fragrant pink flowers. Shear after bloom to maintain the 3- by 3-foot dimension. The dark green glossy foliage provides a nice contrast to the white fence and can behave as a deciduous hedge. If you want a little height, arrowwood viburnums (Viburnum dentatum) have strong upright growth and flat white flowers in spring. Blue Muffin ('Christom') grows 3 to 5 feet tall, with blue-black berries that persist if not eaten by birds, and shows orange to burgundy red foliage in fall. Like the lilacs, hand pruning and thinning after bloom will keep the height at the desired level every other year.
Examine the wonderful single and double Knock Out roses. Introduced in 2000, they have become a mainstay in the summer garden, producing flowers continuously from spring until hard frost. Extremely hardy and disease-resistant, they live up to their name.
RELATED: What is a good choice for a privacy shrub?
ELSEWHERE: Viburnum dentatum