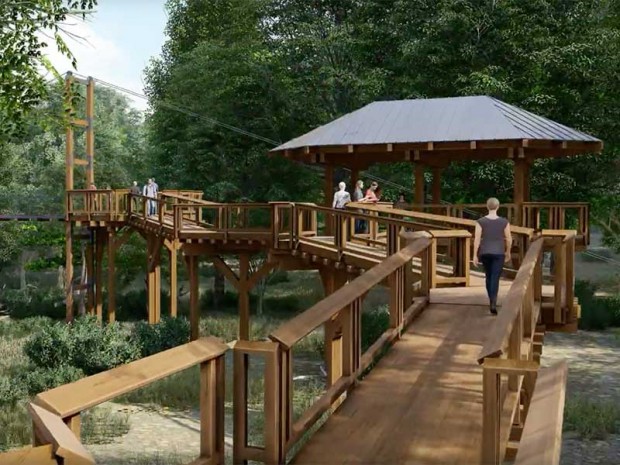 This summer, Hidden Lake Gardens of Michigan State University announced a new attraction that will be coming to the Tipton, Michigan botanical garden and arboretum. The Tree Tower and Canopy Walk project is scheduled to open in 2020, the 75th anniversary of Harry Fee's gift of Hidden Lake Gardens to MSU.
The design, fundraising, and site preparation phases of the project are on the docket in 2019. Then the tree tower and canopy walk will be pre-fabricated during the winter months. The Canopy Walk is set for construction and installation as soon as the winter weather breaks, with an opening by June 2020. The Tree Tower will begin construction and installation over the summer of 2020, with an anticipated opening of October 2020, just in time for fall foliage season.
The Tree Tower and Canopy Walk attraction will provide people of any ability the opportunity to have a woodland and forest immersion experience. The 700-foot long canopy walk will take visitors through the tree canopy some 65 feet above the ground via the wheelchair friendly boardwalk and suspension bridge. The tree tower will be a 100-foot tall "climb" up into and above the trees via a wooden staircase. For visitors that cannot access stairs, the ADA-compliant elevator—the only tree elevator of its kind—will move people up and down the trees. To learn more, click here.