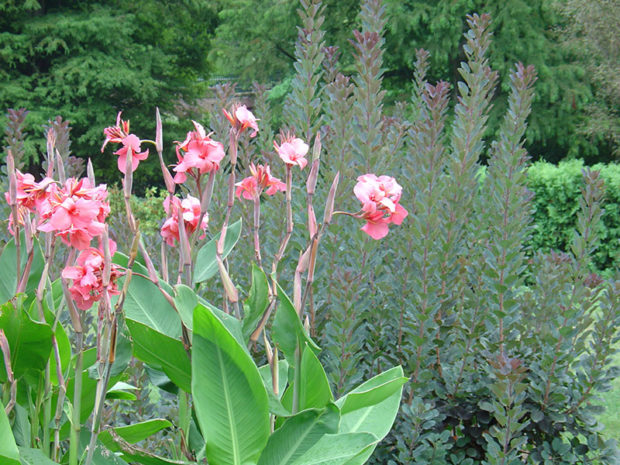 I have been unsuccessful in overwintering cannas; they get mushy or just don't survive. What's the trick?
Canna lilies are vigorous growers, spreading and creating large clumps of fleshy rhizomes. Whether in the ground or container, their vibrant colors and reblooming ability make them desirable additions to a garden. Keeping our favorites from year to year is also cost effective.
Using a fork, gently lift the shallow-rooted clumps from the soil and lay them out on trays with newspaper. Separate the rhizomes with your hands, being careful but not paranoid if some of them break. Sort and trim out any damaged rhizomes. If they have been in ground or container soil, do not wash them off. Let the soil dry naturally and brush it off later. If they have been in a pond situation, then clean that debris off. Let them dry for a couple days.
Trim the stalks to about two inches above the rhizomes with a clean knife or pruners. Remember all naked rhizomes look identical. To keep varieties identified, put a label with each group and keep them separate. Once dry, wrap them in dry newspaper or paper lunch bags, and place in open cardboard boxes. Shoeboxes are great for large numbers of multiple varieties.
The key is keeping them dry and cool while you wait to replant them. Cool, dry basements and fruit cellars that don't freeze are ideal. Do not place near furnace vents where heat can make them sprout prematurely. Check once or twice over winter for soft or shriveled rhizomes and discard. If more than a few are rotting, then move them to a drier location.
Related: Planting cannas in containers
Related: Overwintering tender garden plants