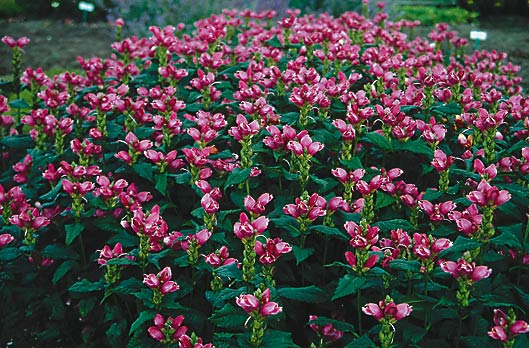 W. Atlee Burpee & Co. / 800-888-1447
Chelone lyonii 'Hot Lips'by George Papadelis
Garden centers fill their benches in the fall with thousands of mums. But what else is blooming? With a little effort, dozens of great perennials that bloom during early fall can be found. Chelone, or turtlehead, is a North American native perennial whose peak flowering period lasts about four weeks from August to September.
Chelone has the common name turtlehead because its individual florets resemble the head of a turtle. The individual flowers are about 1 inch long and are borne on short, pointed spikes that rest above glossy green foliage. Plants grow 2 to 3 feet tall and about 1-1/2 to 2 feet wide. Turtlehead prefers moist, rich soil and partial sun but can tolerate full sun if provided adequate moisture. It grows in and close to woodlands all over the eastern half of the U.S. and Canada. Like many native plants, it is well adapted to our climate and soils and is also more insect- and disease-resistant. Turtlehead will last for many years with little or no care at all. When plants grow beyond their allocated space, they can be easily divided in spring.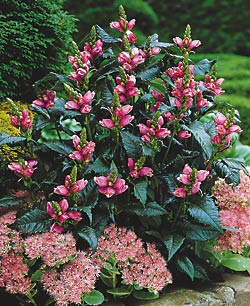 K. Van Bourgondien & Sons / 800-622-9997
Chelone obliquaThree species of Chelone are readily available and each offers some traits that may be beneficial in your garden. Chelone glabra is often called white turtlehead (or swamp turtlehead) because its flowers are usually white tinged with a hint of pink. It blooms a bit earlier than the other two species, starting in late July and continuing through August. Of the three species, this one is the most sun-tolerant.
Chelone lyonii is the most popular turtlehead. It is usually pink, prefers partial sun and blooms about the same time as Chelone glabra. The variety 'Hot Lips' has rich pink flowers and reddish stems.
Chelone obliqua has flowers of the deepest pink that are sometimes even described as purple. It also comes in an all white form called Chelone obliqua 'Alba.' Chelone obliqua does offer one unique advantage over the other turtleheads: it is the latest blooming species. This one won't start flowering until late August and continues for about four weeks into September. This later bloom time is especially valuable since the more popular summer bloomers like black-eyed Susan (Rudbeckia) and phlox are probably done.
So you might be thinking turtlehead would look great with some mums, right? Sure it would, but also consider some of the other late bloomers that would look beautiful next to the leaves and flowers of pink turtlehead. The blue or purple flowers of fall asters would make an excellent partner that grows from 1 to 3 feet tall. For a shorter blue bloomer, try the spreading plumbago (Ceratostigma plumbaginoides) whose electric-blue flowers are complimented by beautiful reddish-bronze fall foliage. The later-blooming monkshood (Aconitum napellus) has dark blue flowers on 4-foot spikes that resemble delphiniums from a distance. Check out other late bloomers like Joe pye weed (Eupatorium), hardy hibiscus, anemones, ornamental grasses, and fall-blooming crocus, to name a few. Keep in mind that turtlehead does produce a column of green leaves that is very visible when the plant is in bloom so you may want to soften it with a shorter flower or some complimentary beautiful leaves.
The cooler fall temperatures give us the perfect opportunity to spruce up our flower beds and begin planning for next year's garden. Plants are less prone to transplant shock and will require less watering if cultivated in the fall. Plant some spring-blooming bulbs, think about trying some pansies, and don't forget those mums. With these and the myriad of fall bloomers like turtlehead, all of us should have a spectacular September garden.
George Papadelis is the owner of Telly's Greenhouse in Troy, MI.
At a glance: Turtlehead
Botanical name: Chelone (keh-LOW-nee)
Plant type: Perennial
Plant size: 2-3 feet tall; 1-1/2-2 feet wide
Habit: Upright
Hardiness: Zone 3 (zone 5 for Chelone obliqua)
Flower color: Pink, white
Flower size: 1-inch long
Bloom period: August-September
Leaf color: Green, dark green
Leaf size: 2-8 inches long
Light: Partial shade to full sun
Soil: Rich, moist soil
Uses: Areas in the garden that are continually moist or wet; bog garden; stream or pond bank
Companion plants: Asters, Joe pye weed, hardy hibiscus, anemones, ornamental grasses, plumbago
Remarks: Native plant. Provide adequate moisture if positioned in full sun.