Jonathon Hofley / Michigan Gardener
'Rostrahlbusch' switch grass in the summer.by George Papadelis
Ornamental grasses are an enormous group of plants whose popularity has altered our perception of perennial gardening. Before ornamental grasses, perennial purists struggled to find plants that provided winter interest and yet died down to the ground like the rest of the garden. Some gardeners rebelled and began using smaller evergreen shrubs. Others found solace with upright sedums like Sedum 'Autumn Joy.' Now, we have ornamental grasses.
Besides providing winter interest, grasses have fall color, move beautifully in the wind, and most have flowers that last long into the winter. They are extremely diverse too. Some grow in sun, others in shade. They may be as little as 1 inch tall or towering to 20 feet. It is more and more difficult to find an American garden without an ornamental grass.
Jonathon Hofley / Michigan Gardener
'Heavy Metal'One of the most valuable ornamental grasses is switch grass (Panicum virgatum). This North American native has many of the attributes that make ornamental grasses popular. All switch grasses are clumpers. In other words, none of them are runners, which can quickly outgrow their allotted space and become a nuisance. Clumps of switch grass expand so slowly that they may not require dividing for 10 years or longer. When your clump eventually does grow too wide for your garden, you'll need to dig up the entire crown to divide it. I have often equated dividing ornamental grasses to dividing the trunk of a tree. It's easier with a chain saw, but an axe or hacksaw will do the trick. Basketball-size clumps will make great specimens within a year. The only maintenance your switch grass will require is a trim to about 6 inches in late March or early April. This allows the new growth to begin unencumbered by last year's old growth.
All switch grasses have gray-green to blue-green leaves that turn gold to orange-red in fall and then fade to a wintertime shade of tan. The fall flowers emerge pinkish, reddish, or silvery and mature to a grayish white or brown. They will tolerate almost any kind of soil from wet to dry and from sand to clay. They prefer full sun but will tolerate light shade. Height can range from 3 feet to as tall as 7 feet. Needless to say, switch grasses are very versatile plants.
My favorite switch grass is 'Heavy Metal.' I first saw this plant from a tour bus at Longwood Gardens in 1992. I could not believe how stiff and upright this tight clump grew. It has metallic gray-blue leaves on a 3- to 4-foot tall plant. The purple flower sprays that emerge in late summer are followed by its bright yellow fall color. It's spectacular. This one looks great in rows to form a short hedge or alone among perennials in any border.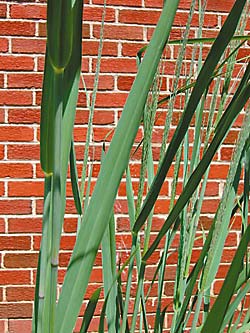 Jonathon Hofley / Michigan Gardener
'Dallas Blues'The largest switch grass you will find is 'Cloud Nine.' It can grow from 5 to 7 feet tall and has a more vase-shaped habit. Its light blue leaves hold up great in strong winds. It produces yellowish flowers in late fall that blush to tan for a winter show. The larger size of this switch grass makes it ideal as a visual barrier or background plant.
Panicum 'Prairie Skies' is a more upright grower like 'Heavy Metal,' only larger, to 5 or 6 feet tall. This exceptional, strong grower will usually produce substantial plants faster than other varieties. The powdery-blue foliage yields soft blue-gray flowers in fall.
'Shenandoah' is a shorter variety, only growing to 3 feet tall. Its other distinction is its deep red leaf color that starts in June and intensifies as the season progresses. In late summer, red flowers emerge that mimic the red leaf color.
'Dallas Blues' bears very wide leaf blades of powdery blue. These unusual leaves grow on a 6-foot tall plant that develops 2-foot long, football-shaped flower heads of purple-blue that turn to a rich orange-tan by fall. The huge flowers are the most wind responsive of any of the switch grasses; the slightest breeze will send your garden into a long mesmerizing dance.
If you are using your switch grass in a perennial border, there are many late-blooming perennials that make fine companions. The showy stonecrop sedums (Sedum spectabile) include several varieties like 'Autumn Fire,' 'Neon,' and 'Pink Chablis.' These offer some interesting flowers as well as foliage for the autumn garden. Russian sage (Perovskia) offers lavender flowers above silvery foliage that grows 3 to 4 feet tall. Fall-blooming asters and boltonia are available in several colors and provide masses of late season flowers.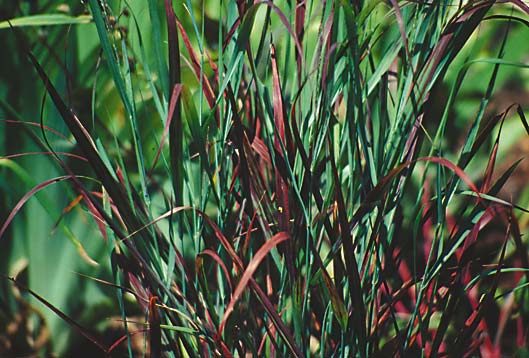 Hines Horticulture
'Shenandoah'Fall is a wonderful season to garden. Plants can be transplanted or divided with less stress and with less water. This is a perfect time to reevaluate your gardens and determine what changes should be made. Also, imagine your garden at wintertime to see if your landscape lacks winter interest.
Switch grass is a versatile plant that provides year-round interest with minimal care. With the companions mentioned above, ornamental grasses can be used to ensure a stunning display that lasts well into winter. Get to know this valuable group of plants; every American garden should have some.
George Papadelis is the owner of Telly's Greenhouse in Troy, MI.
At a glance: Switch grass
Botanical name: Panicum virgatum (PA-ni-kum vir-GAH-tum)
Plant type: Perennial ornamental grass
Plant size: 3-7 feet tall
Habit: Upright or vase-shaped
Hardiness: Zone 5
Flower color: Soft purple, yellowish, gray-blue, pinkish red
Flowers: Airy clusters
Bloom period: Fall
Leaf color: Various shades of blue-green or gray-green
Light: Full sun to light shade; flowering and fall color are best in full sun
Soil: Tolerant of most types; from dry to wet, sandy to clay
Uses: Perennial bed, mixed border, hedge, specimen plant
Companion plants: Tall sedums, Russian sage, boltonia, asters, mums
Remarks: Great year-round interest; fantastic fall color, from yellows to orange-reds, changing to tan in winter; easy to grow