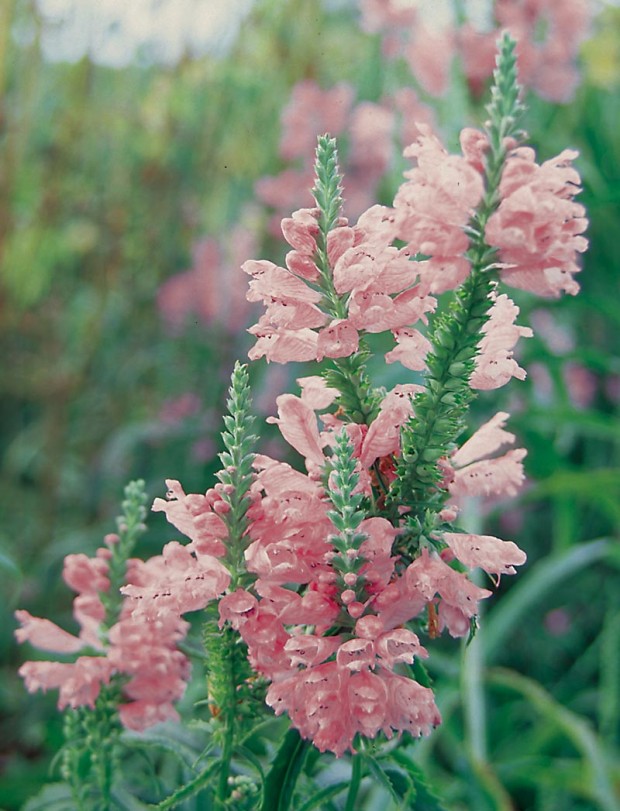 By George Papadelis
Obedient Plant is a truly versatile plant, with many desirable features that make this North American native an asset in a sunny perennial garden. The flowers somewhat resemble a dragon's head and thus the common name of "false dragonhead" evolved. These one-inch flowers come in white or shades of pink and are formed in straight rows along a narrow, pointed, spike-like flower head. Although it is a bit deceiving, the common name "obedient plant" developed for another good reason. If pushed to one side, the individual flowers stay in that position for quite a while and are therefore "obedient." In his book, The Harrowsmith Perennial Garden, Patrick Lima describes it this way: "If you have nothing else to do, you can reposition the individual flowers, which are attached to their stems by the botanical equivalent of a ball-and-socket joint."
The term "obedient" cannot be confused with the plant's growth habit, which is, in fact, quite the opposite. If left to do as it wants, this plant produces underground stolons that will make a large clump from a single plant in just one season. This is especially true in well-cultivated, rich soil. Therefore, I recommend planting in poorer soil or be prepared to divide this spreader every year or two in the spring.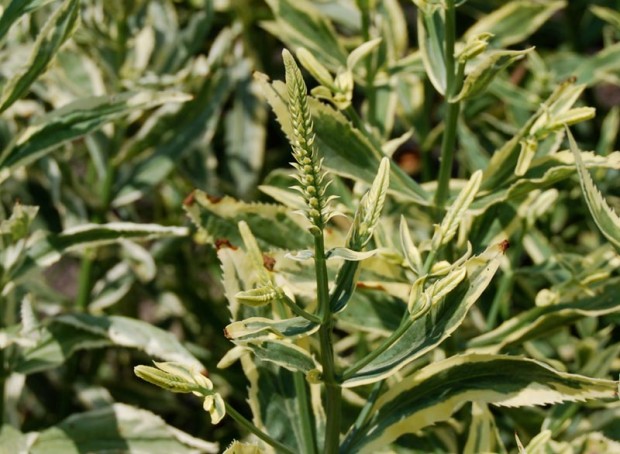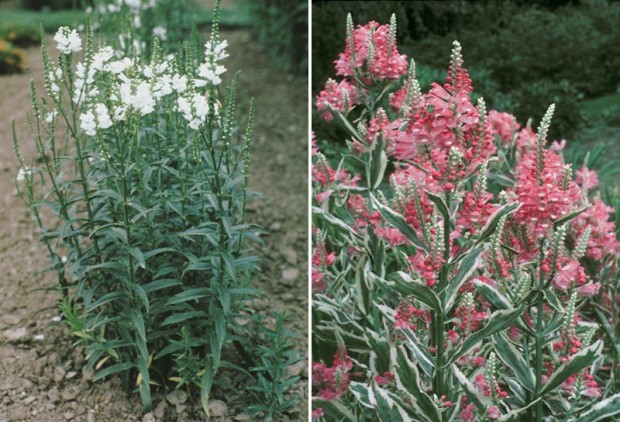 Obedient plant likes full sun and may require staking if planted in part sun or in rich soil. It will begin blooming in August and will continue through the end of September. It has strong, straight stems and long-lasting flowers that make this a popular and beautiful cut flower.
Several different varieties are available. 'Summer Snow' is a nice 28-inch tall, white selection, but the most popular color is pink. 'Pink Bouquet' is widely used, but grows 3 to 4 feet tall. For a deeper pink on a less floppy, 20-inch tall plant, try 'Vivid.' For a wonderful combination of flowers and foliage, use 'Variegata,' which has the typical pink blooms but also glowing, white-edged leaves. These stand out in any flower bed and give this variety a much longer season of interest.
If you are willing to curb this plant's appetite for space, Physostegia may work well for you. As a cut flower or a late-blooming perennial, this plant grows easily. If all else fails, you can always show a fellow gardener why this is called the obedient plant!
Obedient Plant
Botanical name: Physostegia virginiana (figh-so-STEE-jee-a  vir-jin-ee-AH-na)
Common name: Obedient plant, false dragonhead
Plant type: Perennial
Plant size: 20 to 42 inches tall
Flower colors: White, rich pink
Flower size: 1 inch long, on spikes above the foliage
Bloom period: August and September
Leaves: Green, narrow, 3 to 5 inches long; also green with white edges
Light: Sun to partial shade
Soil: Grows in most soils; poorer soils will slow rapid spreading
Uses: Cut flowers, wildflower garden, larger naturalized areas
Remarks: Will spread aggressively. If used in the perennial border, plan on lifting and dividing every year or two. May require staking when grown in partial shade or highly fertile soil.
George Papadelis is the owner of Telly's Greenhouse in Troy and Shelby Township, MI.