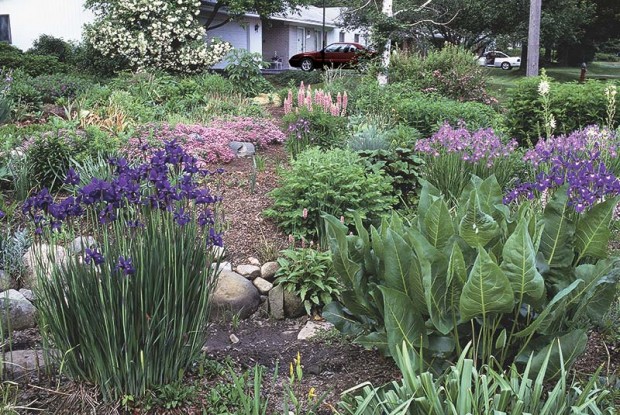 Standing in my garden where she'd come to see a plant and size it up for inclusion in her own collection, my client spread her arms to encompass the whole yard and said, "Let's have it all. What would it cost to do all this at my place?"
Given the size and basic composition of a garden—mostly perennials, perennials and annuals, shrubs and perennials, etc.—I can answer with a dollar figure. Yet I hate to, as it puts such a definitive edge on a garden. With a price tag neatly tied to one corner, a garden seems comparable to any other item that can be bought and sold.
Call me a gardening addict, all mixed up by too long an association with landscape architect Thomas Church's proclamation, "The only limits to a garden are at the edges of your imagination." For I think putting a dollar figure on a garden is too simplistic, that the other strings attached are more important and make it a far more complex consideration.
For my client, under the impression that a checkbook could transplant my garden to her property, I would say, "It's not just the money, it could change your life, and your family, fundamentally, in many ways we should talk about."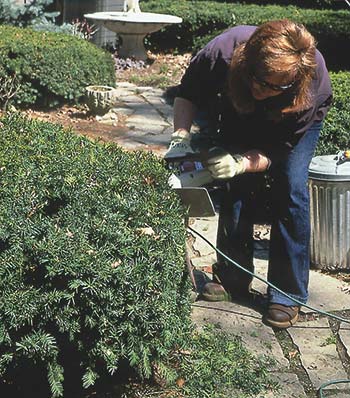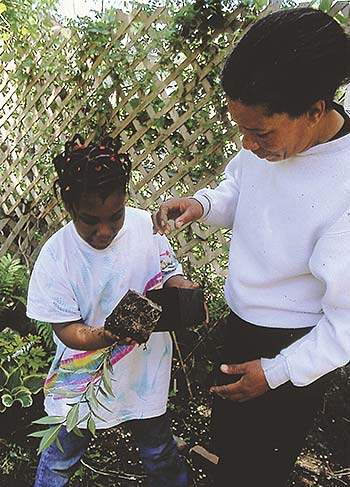 Hidden value to the person and the family
What is it worth, after all, that families stay together through shared memories because they have an outdoor room to enjoy and recall as stage and backdrop for important events?
Health is priceless, but poor health's costs are harshly defined in drugstore and doctor bills. Should we begrudge the money spent on a garden whose upkeep brings us physical well being? It gives us better muscle tone through bending and stretching, strengthens our respiratory and circulatory systems by providing regular opportunities to rake and wheelbarrow, and when we're ill, helps us recover more quickly. (Studies in hospitals have linked shorter stays and lower use of pain-killers to the view from a patient's room—those in rooms with a view to greenery left sooner, having taken less medication, than those with windows looking out onto other buildings or hardscapes.) Should we simply use our gardening money for a health club membership instead? Or invest it wisely since eventual health care costs will be exponentially greater?
What about the value of stress relief, mental health and imagination? Just looking at greenery has been proven to slow the heart rate and increase the alpha brain waves associated with relaxation, creative thinking and problem solving. Being in direct physical contact with plants is even more powerful, as any mental health care practitioner will tell you who uses horticulture as therapy for patients.
Let's add something for that one child who lives in or visits that garden and takes an important mental leap after a gardener explains something like the fact that a seedling plant may not be just like its parent. When that first peek into the field is the child's stepping stone to a career as a top level genetic researcher, why not credit his or her lifetime salary and awards to our garden's output?
Connectivity and resources for the community
Influence is worth something, and gardens are notably influential in a neighborhood. Eventually most gardeners see it, how their use of flowers or attention to lawn and shrubs catches on in nearby properties. Even in the most dilapidated neighborhood, it's the home with the neat yard that garners respect and gradually raises the standards for everyone. The existence of a garden is both incentive and deterrent—studies in urban Los Angeles indicate that graffiti and other building defacement happens less where there are diverse, tended plantings.
Communication is more lively and there's more camaraderie in neighborhoods where people are seen in the yard and lean on the fence to exchange news. The gardener who is outdoors regularly is likely to be an essential link in passing the word during emergencies small and large, from lost dogs to missing children. That person is more likely to notice and sound an alarm when things look wrong. Little things like a nod and a greeting, more important ones like acknowledging big changes in one's life from the birth of children to loss of loved ones—these are the vital links that bind us, activities more likely to involve gardeners than people shuttered with their home entertainment systems.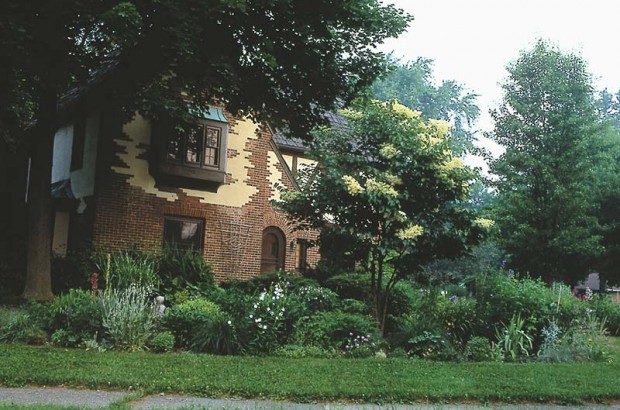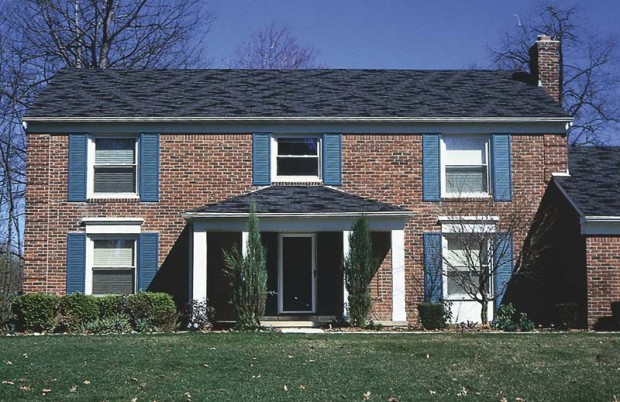 Cleaner environment
Gardeners tend to reach out and spread the green. Every year, garden clubs, Master Gardeners, volunteer foresters and informal teams in southeast Michigan are responsible for hundreds of new trees and acres of colorful displays, planted free or at a very low cost. These plantings open minds at libraries, heighten the image at civic centers, increase enjoyment and learning at zoos, parks and museums, and help ease the pain at hospitals and convalescent centers.
Where diverse plantings are, there are more birds. Proven by federal studies to be highly effective weed-seed eaters and bug catchers, they're also heart-lifting singers of song who just can't survive on grass alone.
Cleaner air is one of the benefits we all reap from gardens. The gas-scrubbing powers of green growing things has been proven many times over, but the garden's effect on air quality goes beyond that. Every square foot of garden is one foot that might be tended without the use of power mowers and string trimmers, machines that are dirtier than cars in terms of emissions—and noisy to boot.
Gardens purify water, too. At a conservative estimate, every 100 square feet of garden in Michigan can absorb and filter 720 gallons of water per year that would have run rapidly off of hardpan sod or paved surfaces. As run-off, that water would have sluiced away into storm drains loaded with pollutants such as oil drips from vehicles and animal feces. As we've learned through increasingly common notices of beach closings, what goes into storm drains often flows directly into streams and lakes, and sometimes finds its way back into the drinking water supply. Absorbed into the loose, receptive soil in a garden, that water will not run but fall gently through a cleansing filter of soil particles and roots to have all or most of its pollutants stripped away before it returns to groundwater, wells, streams or lakes.
Every day in one way or another, a garden increases in value.
Article by Janet Macunovich and photos by Steven Nikkila, www.gardenatoz.com.