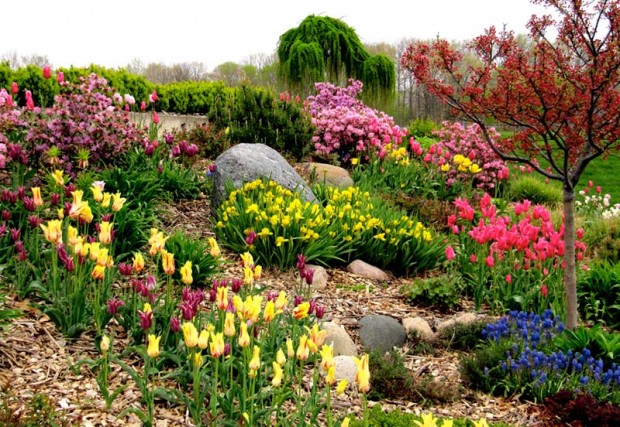 2015 marks the 50th anniversary of Windmill Island Gardens, a city-owned park in the heart of Holland, Michigan. To celebrate the anniversary, horticulture staff will implement a theme of "The Gilded Garden," intended to evoke a sense of luxury, opulence and visual treasure.
After the tulips are done blooming, annuals will be planted in their place. The gardening staff has chosen flower cultivars in as many shades of yellow and gold as possible to evoke the rich hues of summer. Vibrant masses of golden-toned blooms, stunning color, arresting foliage, and carefully chosen plant combinations will adorn each flower bed. Over 100 varieties of annuals are included in the garden plan; over 20 are new cultivars that have never been grown on the island before.
Whether visitors are seeking a tranquil corner, a shady bench with a view of the windmill, or a velvet expanse of green lawn, the gardens at Windmill Island can provide a feast for the eyes and the soul. For nearly 50 years, the centerpiece of the gardens has been the 252-year-old DeZwaan Windmill. It symbolizes the authentic Dutch heritage of the community. For more information, click here.