In no particular order, we're recapping 15 great books from 2010 for the gardener on your holiday shopping list. Any one of them would be a great holiday gift for the green thumb on your list. We'll feature a book a day starting December 7.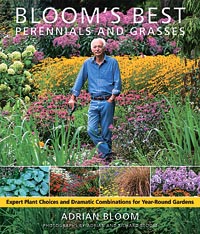 Bloom's Best Perennials and Grasses: Expert Plant Choices and Dramatic Combinations for Year-Round Gardens
by Adrian Bloom
There are thousands of perennials and grasses available to gardeners, and that can make it hard to know which plants are right for your own unique garden. Bloom's Best Perennials and Grasses (Timber Press, 208 pages, $34.95) features 250 choices that are beautiful and easy-to-maintain, and also provide year-round interest.
Detailed descriptions have information on growth, care, and design tips for use in gardens of all sizes. The author shows how to design and plant well-structured borders that feature perennials and grasses with a mix of other plants playing supporting roles. He also shares his trademark "river of plants" design style that dramatically features a plant's beauty throughout its life.
Colorful photos throughout the book highlight unique plant combinations to create beautiful complementary designs, even in the winter season. A directory includes plant details and recommendations that focus on predicting how the plant will perform in your own garden.