In no particular order, we're recapping 15 great books from 2010 for the gardener on your holiday shopping list. Any one of them would be a great holiday gift for the green thumb on your list. We'll feature a book a day starting December 7.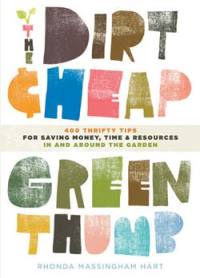 The Dirt Cheap Green Thumb
by Rhonda Massingham Hart
Gardening is experiencing a surge in interest as more people want chemical-free, inexpensive produce, and a healthier and more economical lifestyle. Without planning and knowledge, however, even experienced gardeners can make costly mistakes. And even if you're not frugal, there is nothing more valuable than our time. The Dirt Cheap Green Thumb (Storey Publishing, 288 pages, $10.95) provides practical advice on successfully growing both edibles and ornamentals, helping gardeners save money without compromising the crop or their garden's beauty. This easy-to-browse guide is full of smart ideas, quick tips, and advice for beginners. Specific topics range from improving your soil, watering, and mulching, to essential garden tools and accessories, plant propagation, seed saving, preservation of food crops, and more. Dozens of helpful lists make the information easy to find.
Click here to purchase from Amazon