In no particular order, we're recapping 15 great books from 2010 for the gardener on your holiday shopping list. Any one of them would be a great holiday gift for the green thumb on your list. We'll feature a book a day starting December 7.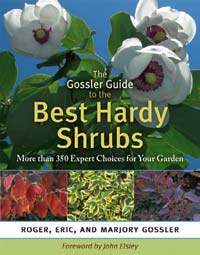 The Gossler Guide to the Best Hardy Shrubs:
More than 350 Expert Choices for Your Garden
by Roger, Eric, and Marjory Gossler
For most homeowners, shrubs are an essential part of the yard or garden because they provide flowers and foliage from spring through fall. The Gossler Guide to the Best Hardy Shrubs (Timber Press, 204 pages, $34.95) shows you how the superior plants available today can transform ho-hum gardens into scenes of beauty and serenity. For decades, the Gossler family has tested, propagated, and sold the best hardy shrubs from around the world. The book starts with personal, common sense advice about climate, care and maintenance, plant categories, and learning from other people's gardens. The remainder of the book is a guide to more than 350 beautiful, versatile, and easy-to-grow shrubs. Plant profiles describe the plant's main characteristics, give height and spread, and list the growing conditions needed to thrive. Colorful photographs also provide examples of the shrubs and how they can compliment landscape design.