In no particular order, we're recapping 15 great books from 2010 for the gardener on your holiday shopping list. Any one of them would be a great holiday gift for the green thumb on your list. We'll feature a book a day starting December 7.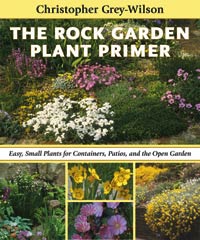 The Rock Garden Plant Primer: Easy, Small Plants for Containers, Patios, and the Open Garden
by Christopher Grey-Wilson
It is not necessary to have a traditional rock garden to enjoy rock garden plants. In fact, these colorful, small plants are perfect for the pots, containers, window boxes, and raised beds that are the mainstays of modern gardens.
In The Rock Garden Plant Primer (Timber Press, 232 pages, $29.95), world-renowned botanist Christopher Grey-Wilson recommends easy-to-grow plants for a variety of garden situations including shade, mixed borders, and patios. Introductory chapters explain how to grow and care for these gardener-friendly plants that are cold-hardy and adaptable. Detailed plant descriptions are based on his personal experience of seeing the plants in the wild and growing them in the garden. This resource also includes colorful photographs to aid in selection and identification.