In no particular order, we're recapping 15 great books from 2010 for the gardener on your holiday shopping list. Any one of them would be a great holiday gift for the green thumb on your list. We'll feature a book a day starting December 7.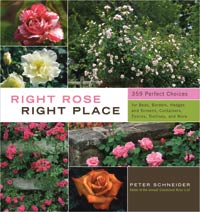 Right Rose Right Place: 359 Perfect Choices for Beds, Borders, Hedges and Screens, Containers, Fences, Trellises, and More
by Peter Schneider
Expert rosarian Peter Schneider invites you to grow roses with confidence. He also shows you how, in this up-to-date book based on over 30 years of experience growing over 2000 different roses in his zone 5 Ohio garden. He believes the secret in our tough midwestern climate is choosing the right rose for the conditions and location where it will live.
Most rose books are not written by Midwesterners, and that is one of the key reasons this will become the go-to rose book in your horticultural library. This reference is written from a "local" perspective, which is a plus for Michigan gardeners—there is no sugar coating of the rose-growing experience. It will change the way you look at growing roses.
In Part One, Schneider describes the versatility and appeal of roses. Gardening with roses is as simple as choosing the right cultivar for your conditions, location, and needs. Part Two is a compendium of information that lists "a rose for every purpose" and describes species, modern, climbing, miniature, and old garden roses in detail—from roses that stand alone, make great hedges, grow in harmony with other plants, to bedding, cutting, tree, and container roses. All information is based on Schneider's actual experience of growing every rose listed in this book.
Part Three is about rose growing, and starts with advice on figuring out what your conditions really are so you know where to begin. The basics of rose care, dealing with problems, understanding pruning, and preparation for winter are all covered.
If you're seasoned rose gardener, you will laugh out loud at the honest descriptions (think Armitage and Dirr) and stories behind the roses. If you're a beginner, you will carry Right Rose Right Place (Storey Publishing, 272 pages, $29.95) with you everywhere and constantly reference it.
June is rose month and there is no better way to celebrate than treating yourself or the rose lover you know to this invaluable book.