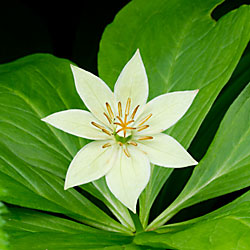 Flickr / Michiteru Kodama
Paris japonica.Paris japonica. Yes, that's right, a white flower has a genetic code 50 times longer than that of a human being. This was discovered recently at Kew Gardens in London.
"We were astounded really," said Ilia Leitch, of Kew's Jodrell Laboratory.
Leitch and her colleagues suspected the plant might have an larger-than-usual genetic code as its relatives have rather large ones too. But the sheer size of this flower's genome caught them by surprise. If laid end-to-end it would stretch to more than 300 feet.
"We certainly didn't expect to find it," she said.