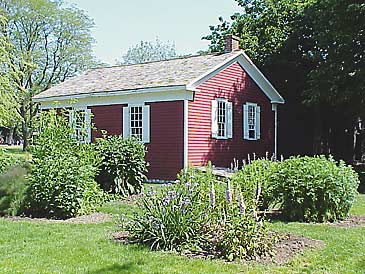 Dr. Howard's Garden features a wide variety of medicinal herbs.Text and photos by Jean and Roxanne Riggs
There are three areas in Greenfield Village where there are herbal gardens: The Garden of the Leavened Heart, Dr. Howard's Garden, and the Burbank Garden. There are herb plants in many other garden areas in the Village, but these three are mainly herbs.
The Garden of the Leavened Heart follows the original 1938 design of Mrs. Clara B. Ford who had the garden designed and selected the herbs to be planted. Dr. Howard's Garden contains a variety of medicinal herbs that might have been used by doctors in the 1880's and is located at his house. The Burbank Garden has herbs and herb-related plants, along with everlastings that are harvested and used for herb and craft demonstrations.
These three gardens have been planted and maintained by volunteers from the Village Herb Associates since the early 1980's. The group was loosely organized by Mary Gerathy in the early 1970's while she was teaching classes with herbs and dried flowers at Lovett Hall in the Village. When Mary left to pursue other interests, the group continued under the guidance of Shirley Swancutt in the 1980's. In 1980 there were 25 volunteers who put in a total of 400 hours. In 2005 there were 69 dedicated volunteers from this now well-organized group who logged over 2900 hours ordering and planting seeds, transplanting plants, as well as watering, weeding, and clipping the gardens.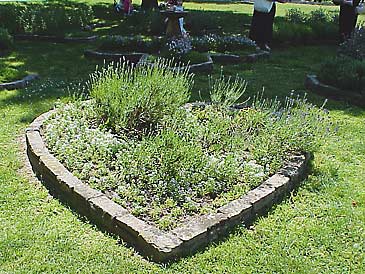 Comprised of 4 areas in the shape of hearts, the Garden of the Leavened Heart contains mainly perennial herbs, many of which still follow Clara Ford's choices.The Garden of the Leavened Heart
Found in front of the Martha Mary Chapel at the edge of the Village Green, The Garden of the Leavened Heart is a beautiful garden whose parts, if pushed together, would form a circle. The parts are separated by pathways, and the planted areas are four hearts. Their connecting parts include a cross through the center, and an inner circle with an exquisite sundial. There is a bench in a stone wall next to the garden where you can sit and admire the garden and the Village Green. The plants are mainly perennial herbs and flowers which still closely follow Mrs. Ford's choices.
Dr. Howard's Garden
Dr. Howard's Garden is a series of eight rectangles filled with plants that might have been used to treat patients in the late nineteenth century. There is an area for women's health that includes raspberry (Rubus idaeus), red clover (Trifolium pratense), black cohosh (Actaea racemosa), parsley (Petroselinum crispum), and more. The first aid area contains comfrey (Symphytum), pot marigold (Calendula), broad-leaf plantain (Plantago major) which was sometimes called "white man's foot" since it was spread so widely during colonial times, and flax (Linum). The other areas have plants for respiratory problems, digestive ills, circulatory aids, and even plants to help the nervous system with nice examples of St. John's wort (Hypericum perforatum), lavender, valerian (Valeriana), German chamomile (Matricaria recutita), and basil (Ocimum basilicum). The good doctor's pharmacy was as close as his garden. This is another well-tended garden that is good for its historical information as well as showing how the medicinal plants look while growing.
The Burbank House
The Burbank House has a large garden surrounded by a white picket fence. The garden is divided into planting areas that are accessible by well-maintained pathways. This is a "working garden" that has plants for use and enjoyment. The garden provides a lot of flowers for drying that are later used for craft demonstrations and potpourri. There are benches where you can sit down to rest, and a compost bin to show how to take care of the garden discards.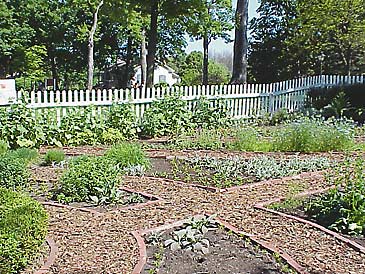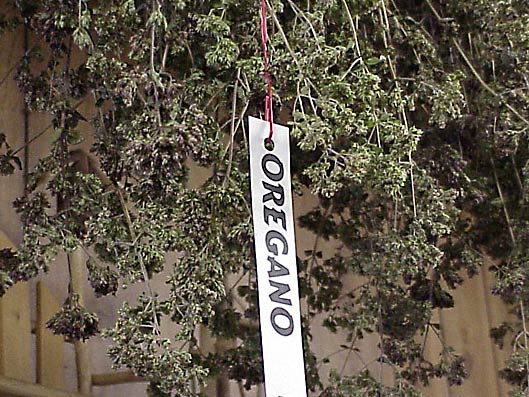 The Burbank House features a working garden (above) that has plants for use and enjoyment. There are also benches (below) where visitors can take some rest.A large corner garden contains many silver-leaved plants including one of the dusty millers (Artemisia), Russian sage (Perovskia atriplicifolia), sage (Salvia), and the rarely seen cardoon (Cynara) to celebrate the volunteer's 25th anniversary this year. The center circle garden is made up of circles of boxwood, Santolina, lavender, curry plant (Helichrysum angustifolium), and a central pot with a large bay tree (Laurus nobilis). There are long garden areas of blue salvia, lavender, lots of celosia in different colors and types, many varieties and colors of statice, globe amaranth (Gomphrena), strawflowers (Helichrysum), love-in-a-mist (Nigella), and grasses, including sea oats and millet. These are valuable educational displays for gardeners to evaluate growth habits to see if the plants would be appropriate in their gardens.
The back and side of the Burbank House are also planted with herbs which would have been used in the kitchen. These gardens have a mix of herbs with some flowers, and some herbs used as simple remedies that would have been the responsibility of the lady of the house. This is really a delightful set of gardens that certainly enhances the buildings and their historical accuracy.
Greenfield Village: A Michigan treasure
Greenfield Village as a part of The Henry Ford historical complex is familiar to nearly everyone in Michigan. It continues to get bigger and better as it ages. Mr. Ford did himself and his chosen city of Dearborn proud when he created this historical masterpiece for the public. The efforts of the Village Herb Associates volunteer organization to make the herbal gardens both beautiful and accurate are appreciated every day by thousands of visitors from all over the world. The Henry Ford provides educational experiences based on authentic objects, stories and lives from America's traditions of ingenuity, resourcefulness and innovation. Their purpose is to inspire people to learn from these traditions to help shape a better future.
To those of you, especially the gardeners, who haven't yet made the time to visit Greenfield Village, we encourage you to make the arrangements. You simply won't believe what you've been missing until you have seen the beautiful plantings and pleasant surroundings for yourself. Allow enough time to savor the herb gardens and rest on a bench with a view. If you are so inclined, ask for a list of the plants and let it lead you to more knowledge.
Jean and Roxanne Riggs operated Sunshine Farm and Garden in Commerce Twp, MI.