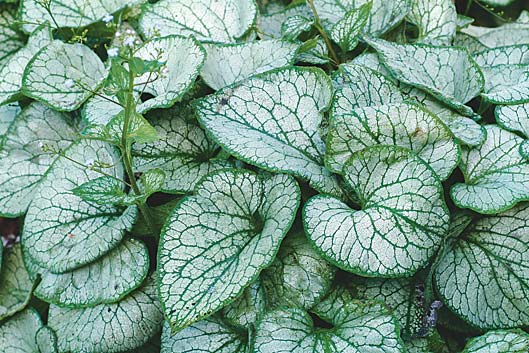 Terra Nova Nurseries
'Jack Frost'By George Papadelis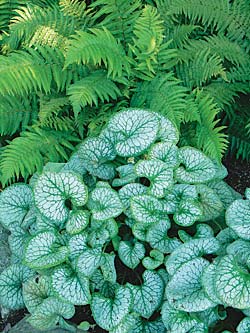 Eric Hofley / Michigan Gardener
Brunnera and ferns make great companions in the shade garden.Brunnera (Brunnera macrophylla) is an outstanding perennial for the shade garden. Its common names are Siberian bugloss, heart-leaf brunnera and perennial forget-me-not. The word "perennial" is important to note here because there is another forget-me-not that is not a true perennial. Myosotis is the biennial forget-me-not. Its flowers are usually soft blue in spring on plants only about 6 to 8 inches tall. After flowering, that forget-me-not will usually die, but only after it drops seeds everywhere. The seeds will usually grow and form plants that will bloom the following spring. Brunnera macrophylla, the perennial forget-me-not, will last for years and years, promising beautiful flowers and foliage season after season.
Brunnera produces clouds of baby blue flowers each May. Each flower only measures about 1/4 inch across and has a tiny white eye in the center. The flowers rest above furry green, heart-shaped leaves measuring up to 8 inches across. As the flowers fade, the leaves grow larger and form attractive rounded mounds that grow about 12 to 15 inches tall and spread 24 inches wide.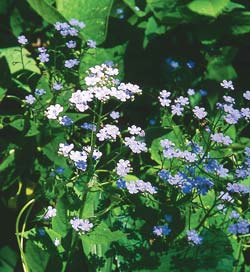 Jonathon Hofley / Michigan Gardener
Brunnera has small, delicate blue flowers in May.Several years ago, a variegated version of Brunnera came along. The wide white edge of Brunnera macrophylla 'Variegata' made this plant a collector's item almost immediately. This mound of striking foliage looks exceptionally attractive when topped by the baby blue flowers. After the spring blooms, the foliage flourishes and persists until late in fall.
A less common cultivar called 'Dawson's White' has similar bicolored leaves with a slightly more creamy margin. 'Hadspen Cream' has lighter green leaves with creamy white edges. Another interesting variety called 'Langtrees' has dark green leaves with silver spots along the border. All this foliage looks wonderful when contrasted with fine-textured leaves (such as sedges, astilbes, and ferns) or sword-like leaves (like Siberian iris).
There is also a beautiful silver-leaved version of the perennial forget-me-not called 'Jack Frost.' The green-veined leaves are very unusual and provide an excellent source of silver in the shade garden. A newer variety called 'Looking Glass' has even less pronounced green veins and slightly cupped leaves.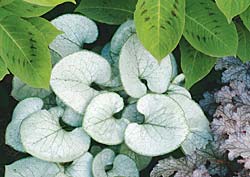 Terra Nova Nurseries
'Looking Glass'Only a few perennials such as dead nettle (Lamium), Japanese painted fern, and lungwort can provide silver in the shade. Try these silver leaves against a big blue hosta, a bright green maidenhair fern, a black-leaved snakeroot (Cimicifuga ramosa 'Hillside Black Beauty'), or a purple-leaved coral bells (Heuchera). Even without flowers, the leaves of the silver-leaved brunnera will steal the show.
The perennial forget-me-not will thrive in moist soil and should have less than about six hours of sun, preferably in the morning. Soil that is filled with moisture-stealing tree roots will probably prove to be too dry. Amend sandy or clay soil with organic matter such as aged pine bark, compost, or peat moss. Trim back the dead leaves in fall, and await the showy spring blooms. No matter how you use it, the perennial forget-me-not is a shade garden favorite with its excellent foliage and showy flowers.
George Papadelis is the owner of Telly's Greenhouse in Troy, MI.
At a Glance: Brunnera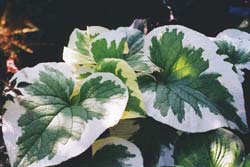 Eric Hofley / Michigan Gardener
'Variegata'Common names: Siberian bugloss, heart-leaf brunnera, perennial forget-me-not
Botanical name: Brunnera macrophylla (BRUN-er-uh mak-ro-FY-luh)
Plant type: Perennial
Plant size: 12-15 inches tall, 24 inches wide
Habit: Mounding
Hardiness: Zone 3
Flower color: Light blue
Flower size: 1/4 inch wide
Bloom period: May
Leaf color: Green, variegated (green/white, green/cream), silver
Leaf size: Heart-shaped, up to 8 inches wide
Light: Part shade to shade
Soil: Moist, well-drained
Companion plants: Hostas, ferns, sedges, snakeroot, coral bells
Remarks: Great foliage plant for the shade garden. Should have ample moisture and not too much sun—otherwise, on the variegated brunneras, the lighter leaf edges can scorch and turn brown.