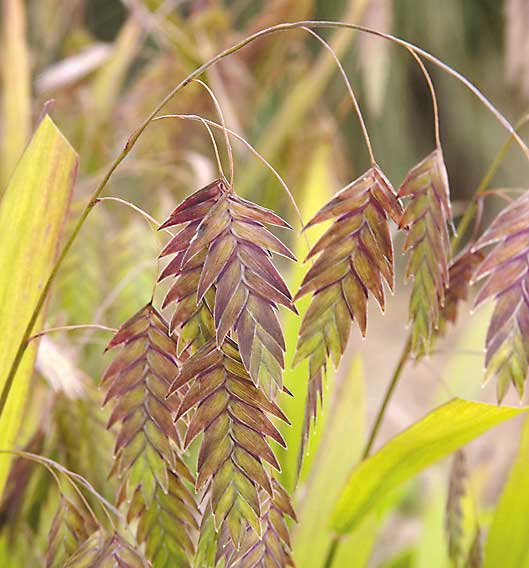 www.monrovia.com
Bronzy fall color of northern sea oats.by George Papadelis
Ornamental grasses are one group of plants that draws a great deal of attention each fall when most of them produce their inflorescence. Consequently, gardeners re-evaluate the possibility of adding a grass or two to the landscape and more are planted in fall than any other time of year.
Ornamental grasses are an enormous group of plants that are usually perennial and typically provide attractive foliage in summer as well as winter. The four popular genera for sun are maiden grass (Miscanthus), switch grass (Panicum), fountain grass (Pennisetum), and feather reed grass (Calamagrostis). Some, like Carex (technically a sedge, not a grass) and forest grass (Hakonechloa), will tolerate shade. Northern sea oats produces beautiful seedpods and boasts tolerance of both full sun and part shade.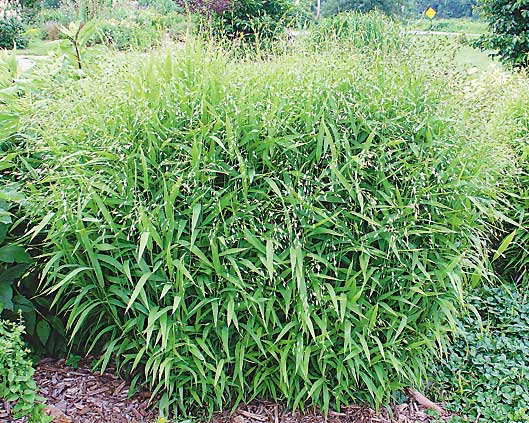 Eric Hofley / Michigan Gardener
The "flowers" are just emerging in this early July photograph.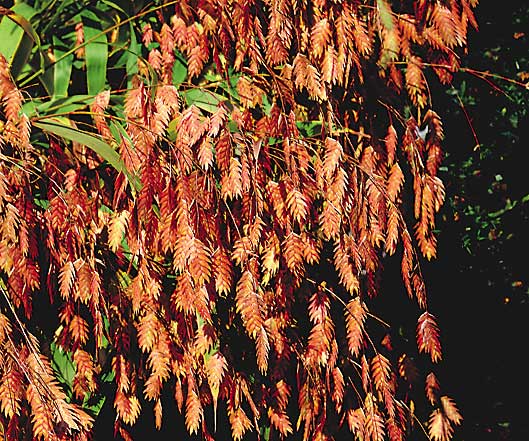 Park Seed
Tan winter color.Northern sea oats (Chasmanthium) is native to south, central, and eastern North America and is very hardy (zone 4). Like many other ornamental grasses, the dead foliage from the previous season should be trimmed in April to just a few inches above the ground. Spring weather will encourage the growth of bright green, grass-like leaves that are about an inch wide and 7 to 8 inches long. They develop on bamboo-like stems that typically grow from 2 to 4 feet tall. Northern sea oats' crown is comprised of slow-spreading rhizomes that will only increase the plant's size by a few inches per year. Plants that are well-established can be divided in spring.
Flat, green "flowers" develop on the arching stem tips from July through September. In fall, these become tan well before the foliage turns to copper in early winter. The flower heads are beautiful and the slightest breeze will send them dancing on the delicate stems from which they gracefully cascade. Snow and ice will add to their magnificence while they gradually shatter until spring.
The flowers do produce viable seed that can produce seedlings in spring. These are usually most prevalent when the soil is well-cultivated and kept quite wet. These volunteers are rarely a nuisance, but I do know of at least one gardener that has banned northern sea oats from her plant list. On the other hand, the northern sea oats in my garden has rarely produced seedlings.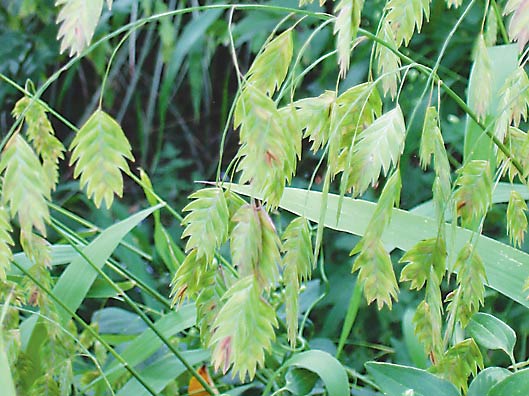 Eric Hofley / Michigan Gardener
Sea green flowers shimmer in the breeze.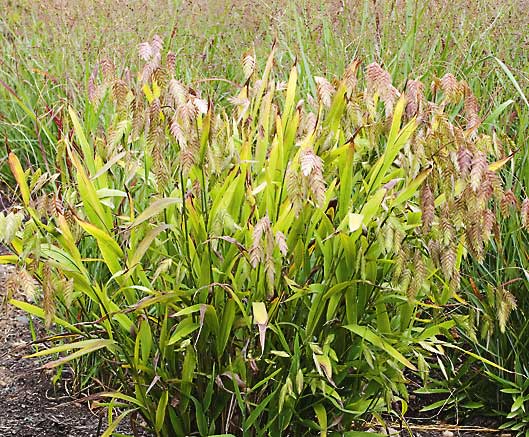 www.monrovia.com
The summer to fall color change.Northern sea oats will thrive in full sun but will also tolerate almost total shade. In full sun, plants will grow slightly shorter and should not be allowed to dry out. Plants grown in shade or part shade are drought-tolerant once established. Try planting northern sea oats under larger trees where competition from tree roots may present a problem for other perennials.
The versatility of this plant makes it a welcome addition to almost any border planting. The bright green, narrow leaves are an excellent foil to contrast with broader foliage such as hostas, rodgersias, or perennial forget-me-nots (Brunnera). They may also be positioned near the finer foliage of astilbes or ferns. Almost any flower would be complimented by a backdrop of northern sea oats foliage. Each winter, when other perennials die back to the soil, northern sea oats stays up to provide the winter interest for which ornamental grasses are best known.
Great foliage, fascinating flowers, and almost a full year of interest make northern sea oats worth considering in your landscape. Best of all, its tolerance of sun or shade makes it suitable for use almost anywhere.
George Papadelis is the owner of Telly's Greenhouse in Troy, MI.
At a glance: Northern sea oats
Botanical name: Chasmanthium latifolium (chaz-MAN-thee-um la-ti-FOH-lee-um)
Plant type: Perennial
Plant size: 24-48 inches tall and wide
Habit: Upright and clumping
Hardiness: Zone 4
Flower color: Sea green, maturing to bronze, then tan
Bloom period: July to September
Leaf color: Bright green, maturing to coppery gold
Leaf size: 1 inch wide, 7-8 inches long
Light: Sun to shade
Soil: Adapts to a wide range from moist to dry
Uses: Excellent backdrop for other plants and their flowers. Great 4-season interest: crisp green in the spring, dangling flowers in the summer, bronzy flower and foliage color in the fall, and tan tones in the winter.
Companion plants: Bold foliage like hostas, rodgersias, and perennial forget-me-nots (Brunnera). Fine foliage like astilbes and ferns.
Remarks: Dangling, oat-like "flowers" shimmer in the slightest breeze. Very versatile, since it can adapt to both sun and shade, and moist to dry soils.