by George Papadelis
In our quest for beautiful shade gardens, we often separate foliage plants from flowering plants. The attractive foliage of plants like hosta and ferns is used to provide season-long interest. This, along with an occasional shade-loving evergreen like boxwood or holly, make up the foundation of the garden. The list of flowering plants for shade is much longer than most people think. It includes, but is not limited to, primrose, monkshood, anemone, goatsbeard, plumbago, bleeding heart, turtlehead, foam flower, true forget-me-not, globeflower, perennial lobelia, waxbells, and many, many more. These should be sprinkled throughout the garden to provide occasional splashes of color from spring to fall. Some perennials, however, may have both beautiful leaves and beautiful flowers. This list includes lenten rose, lungworts, coral bells, bugbane, astilbe, barrenwort, bergenia and many, many more. These plants are very useful, especially where space is limited and a huge variety of plants is not practical.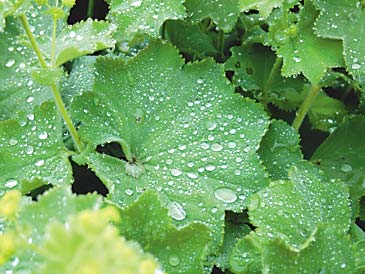 Walters GardensAlchemilla mollis or lady's mantle is another plant with a dose of both great leaves and great flowers. Its silky, olive green leaves are up to 4 inches across. This leaf color is unique and valuable for the shade but my favorite feature goes beyond their color. Lady's mantle sparkles whenever water is on the leaf surface. With rain, morning dew, or the last watering, droplets of water bead like diamonds glowing in the shade. One definition of the word "mantle" describes a cloak-like garment. The plant's common name is derived from its resemblance to the sparkling jewels of a "lady's mantle."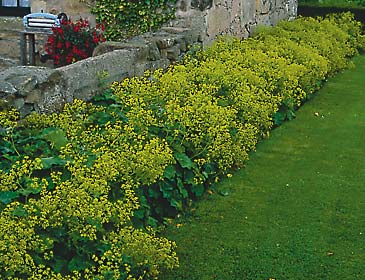 George PapadelisAs gardeners strive to combine leaves of different textures, lady's mantle is especially valuable. The leaves have a rare color and feel that is perfect alongside contrasting plants. In the shade, the bold foliage of almost any blue, green, or bi-colored hosta looks perfect with the light green leaves of lady's mantle. Ferns offer fine-textured leaves to contrast. In light shade, the sword-like, deep green leaves of Siberian iris look stunning near lady's mantle. This is a particularly effective combination since the purple flowers of a Siberian iris like 'Caesar's Brother' appear while lady's mantle has begun bearing its chartreuse flowers in June.
Speaking of flowers, lady's mantle also produces billowing sprays of small chartreuse flowers from June to July. Chartreuse has been and continues to be a very popular color in and out of the garden. Light colored flowers like these are especially bright in shady gardens. There are several other late spring and early summer bloomers available for creating a riot of early season color. Besides the Siberian iris mentioned above, many astilbes, perennial geraniums, campanulas, and coral bells would make great flowering companions. That said, companions are not mandatory; lady's mantle has the merits to exist all by itself as a border around shrubs or a perennial garden. It may also be planted more densely and used as a groundcover.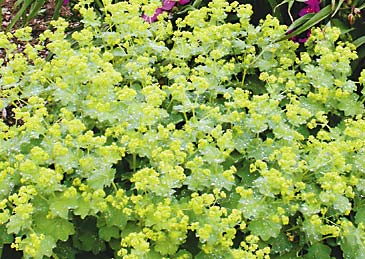 Walters GardensLady's mantle is versatile and easy to grow, preferring moist soil. This is often created when amending clay soils with organic soil amendments such as sphagnum peat moss, aged pine bark, or compost. It prefers part sun or part shade, but will also grow well in full shade and even full sun if it is not allowed to dry out. This plant can grow almost anywhere! Plants typically form mounds 12 to 18 inches tall which should be spaced about 18 to 24 inches apart. If plants are allowed to dry out or if growth becomes too leggy, the leaves may be cut back a few inches above the soil. New leaves will emerge, and in two to three weeks, a beautiful mass of lush foliage will reappear.
The flowers of lady's mantle make great cut flowers that may also be dried for floral arrangements. Just like the garden, the chartreuse blossoms are stunning when combined with colors such as blue, violet, or rose.
I have always felt that this plant is terribly underused in American gardens. Its combination of beautiful foliage and flowers are often overlooked. In the gardens of England, where plants bearing mediocre foliage are rarely tolerated, this plant is quite popular. Try one in the sun or the shade. Plant it in combinations or as a border. Just add water and enjoy the sparkling and shimmering of your lady's mantle.
George Papadelis is the owner of Telly's Greenhouse in Troy, MI.
At a glance: Lady's mantle
Botanical name: Alchemilla mollis (al-keh-MILL-uh MOLL-is)
Plant type: Perennial
Plant size: 12-24 inches tall, 18-24 inches wide
Habit: Mounding
Hardiness: Zone 4
Flower color: Chartreuse
Flower size: Clusters of tiny flowers
Bloom period: June-July
Leaf color: Olive green
Leaf size: 4 inches wide
Light: Shade to sun; provide plenty of moisture if in sun
Soil: Well-drained, prefers moist soil
Uses: Specimen perennial; shade plant combinations; edging plant
Companion plants: Hostas, ferns, iris, coral bells, astilbe, many other shade plants
Remarks: Water beads on the leaves for an amazing sparkle effect; leaves have a silky texture; beautiful foliage and flowers; can self-seed in the garden