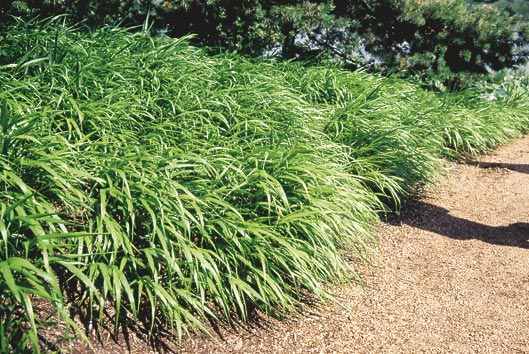 George Papadelis
Hakonechloa macra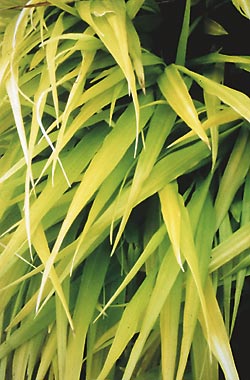 Terra Nova Nurseries
'All Gold'
by George Papadelis
Ornamental grasses have become increasingly popular. Few plant groups can provide winter interest, ease of care, versatility, and an enormous palette of various heights, colors, and flowers. When most people think of ornamental grasses, they imagine the classic sun-tolerant perennial species like maiden grass (Miscanthus), switch grass (Panicum), fountain grass (Pennisetum), or feather reed grass (Calamagrostis). However, many gardeners are not familiar with the more diminutive, shade-tolerant species. Lily turf (Liriope), sedge (Carex), and hakone grass (Hakonechloa) grow in shade or part shade and offer many of the same qualities as the traditional sun-loving grasses.
The Japanese native hakone grass has glossy, soft leaves that grow upright and then cascade or "waterfall" horizontally. This effect lends itself very well for use on slopes or as an edging plant. The slow-spreading clumps are not invasive. In fact, full pots of hakone grass can be difficult to find at your local garden center. High quality plants typically draw a premium price compared to other ornamental grasses. Young plants often disappoint the impatient gardener during the first season or so. However, two or three years in moist, well-drained, and fertile soil will yield lush mounds of beautiful leaves. Hakone grass turns pinkish-red each fall, then bronze, then tan during winter dormancy. The blowing, rustling leaves are pleasant all winter long until early spring when plants should be cut down to about an inch or two tall. The fresh foliage returns by late May.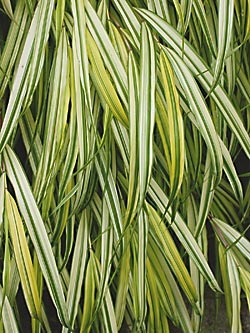 Eric Hofley / Michigan Gardener
'Aureola' Hakonechloa has no major insect or disease problems that would warrant concern. In my yard, however, rabbits feast on the spring leaves and can delay the anticipated display of an established plant. The application of an effective animal repellent can solve that problem.
Four different types of hakone grass are available and all grow about 12 inches tall. In my opinion, the species Hakonechloa macra is very underused. It has shiny, bright green leaves that work well with almost any other foliage color or texture. The popular H. macra 'Aureola' has gold and green leaves that glow in the shade from spring until fall. The cultivar 'All Gold' clearly describes its primary attributes. 'Albo-striata' is rarely available but has green and white bicolored leaves.
All Hakonechloas bring a beautiful texture to the shady garden that looks best when contrasted with other foliage. Ferns have fine-textured leaves that look gorgeous up against the long, linear leaves of hakone grass. The large, bold leaves of hostas are equally excellent companions. Try a blue hosta with the gold leaves of either 'Aureola' or 'All Gold' hakone grass. Or perhaps try gold hosta with the green leaves of H. macra. The popularity of lace-leaf, red Japanese maples gives many of us an opportunity to underplant with the vibrant leaves of a gold hakone grass.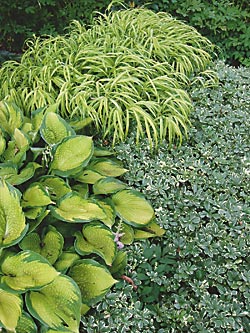 Eric Hofley / Michigan Gardener
Hakone grass is a great perennial for the shade. Hakonechloa macra 'Aureola' is shown here with a hosta and variegated pachysandra.
Keep in mind that there are hundreds of flowering perennials for shade, many of which are underused. Foliage plants will usually create the foundation or backbone of the shady perennial bed. Like hostas and ferns, I can't imagine a shady garden without hakone grass.
George Papadelis is the owner of Telly's Greenhouse in Troy, MI.
Try this combination
One of the most beautiful (and useful) late summer-blooming perennials for shade is plumbago (Ceratostigma plumbaginoides). This slow-spreading groundcover is covered with fluorescent blue flowers from late July until fall on 8- to 10-inch tall plants. When temperatures drop in late September and October, the plants continue to flower but the leaves turn a lovely russet red. This plant is perfect alongside a mound of hakone grass.
At a glance:
Hakone grass
Botanical name: Hakonechloa macra (ha-kone-ee-KLO-uh MAK-ruh)
Plant type: Perennial grass
Plant size: 12 inches tall, 12-18 inches wide
Habit: Layers of cascading foliage
Hardiness: Zone 5
Leaf color: Bright green or yellow; yellow, white, green variegations
Leaf size: 10 inches long, 1/2 inch wide
Light: Partial shade to shade
Soil: Moist, fertile, well-drained
Uses: Slopes, edging, shade garden, containers
Companion plants: Hostas, ferns, plumbago
Remarks: Pinkish red fall color, bronze color in winter. Cascading habit makes them great for slopes or edging. Takes 2 to 3 years to establish.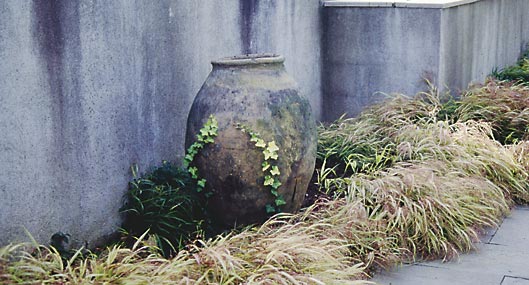 George Papadelis
Hakonechloa turns from pinkish-red to bronze, then finally to tan in the winter.