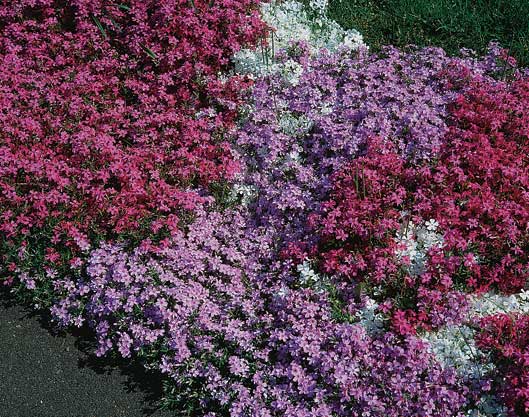 K. Van Bourgondien & Sons / 800-622-9997
Phlox subulata
by George Papadelis
We've all seen it: that glowing mound of flowers that catches your eye each spring. It's impossible to miss an established planting of creeping phlox, even when driving 40 miles per hour.
Creeping phlox is the name often used to describe several species within the huge genus Phlox, which includes perennials such as the tall garden phlox (Phlox paniculata and Phlox maculata) and the annual phlox (Phlox drummondii). Few perennials, however, can produce flowers as densely and reliably as creeping phlox.
There are several species of phlox that are low growing. The most popular is Phlox subulata which bears the common name moss phlox or creeping phlox. This easy to grow plant thrives in sun and is not particular about its soil, although good drainage is preferable. The small, starry flowers come in many colors and the fine foliage can be dense or airy depending on the cultivar. Spring temperatures determine whether your phlox will bloom in late April or as late as mid May. Flowering only lasts for about 3 to 4 weeks. Most grow 4 to 6 inches tall and stay extra compact, especially if lightly sheared after blooming. They can spread up to 2 or more feet wide in just a few years.
Phlox subulata is native to the eastern United States but is hardy enough to withstand much colder climates. Pest and disease problems are rare. This is part of the reason that moss phlox is one of the most popular rock garden plants. It is also used in troughs, as an edging plant, in wall gardens, and in the perennial border. It doesn't grow from seed, but mature plants can be divided after they flower.
The two most popular varieties of Phlox subulata are the blue 'Emerald Blue' and the pink 'Emerald Pink,' due to their bright, clean flowers and their dense, low leaves. 'White Delight' is the most popular white and 'Atropurpurea' is the most popular red. For interesting bicolored flowers, try 'Millstream Coral Eye.' It is pure white with a crimson eye. 'Millstream Daphne' is clear pink with a darker rose eye. One of the most striking cultivars is 'Candy Stripes,' with a distinctly star-shaped pattern.
There are many early-blooming plants that make wonderful partners for moss phlox. As far as bedding plants are concerned, pansies are certainly the most diverse and dependable phlox companions. They come in an almost infinite range of colors and color combinations, and they will tolerate the occasional frosts and freezes of early spring. Early-blooming perennial companions include bugleweed (Ajuga), pasque flower (Pulsatilla vulgaris), and a very broad range of bulbs. Blue or pink moss phlox underneath the blooms of yellow daffodils makes an impressive combination.
Phlox douglasii is another available species that is also called moss phlox and grows almost exactly like Phlox subulata. Phlox douglasii is even shorter, rarely growing over 4 inches tall. Only a few cultivars exist, but 'Crackerjack' has near red flowers and 'Rose Cushion' has delicate, soft baby pink flowers that are very unusual. They only grow 10 to 12 inches wide, making them even better for smaller crevices or troughs. These varieties also benefit from shearing after blooming.
For shade or partial shade, we have Phlox stolonifera, commonly known as creeping phlox. This was the very first plant chosen to be the Perennial Plant of the Year by the Perennial Plant Association back in 1990. Its low, spreading stems are adorned with leathery, almost round leaves. The stems are referred to as stolons since they will root at the stem nodes and tips. Stem tips will turn upright and produce clusters of sweetly fragrant flowers in May. Plants will grow 6 to 12 inches tall and spread indefinitely to form a groundcover.
Phlox stolonifera makes a great companion for spring-blooming shade plants such as primrose, lungwort (Pulmonaria), foamflower (Tiarella), and shade-tolerant bulbs such as scilla and daffodils. Selections include the white 'Bruce's White,' the pink 'Pink Ridge,' the blue 'Blue Ridge,' and the purple 'Sherwood Purple.' These, like Phlox subulata and Phlox douglasii, are best propagated by division. Also, rooted stolons (stems) can be separated from the main plant and grown on their own.
All of these phlox are very easy to grow. Their dense flowers, reliability, and ease of cultivation make them valuable perennials. Try some and you too could have a carpet of traffic-stopping blooms in your spring garden.
George Papadelis is the owner of Telly's Greenhouse in Troy, MI.
At a glance: Creeping Phlox
Phlox stolonifera (floks sto-lo-NI-fer-a)
Phlox subulata (floks sub-ew-LAH-ta)
Common name: Creeping phlox, moss phlox
Plant type: Perennial
Plant size: 4-12 inches tall
Habit: Creeping groundcover
Hardiness: Zone 2
Flower color: Wide variety: lilac, pale blue, mauve, pink (many shades), white, red
Bloom period: April-May
Light: P. stolonifera: partial shade to shade / P. subulata: sun
Soil: P. stolonifera: rich, moist, well-drained / P. subulata: well-drained
Uses: Evergreen groundcover, edging, woodland garden, rock garden
Companion plants: P. stolonifera: early spring-blooming bulbs and perennials for shade, such as lungwort (Pulmonaria), foamflower (Tiarella), scilla, many others. P. subulata: early spring-blooming bulbs and perennials for sun, such as pansies, ajuga, daffodils, many others.
Remarks: Keep P. stolonifera out of full sun. P. subulata is drought-tolerant once established.