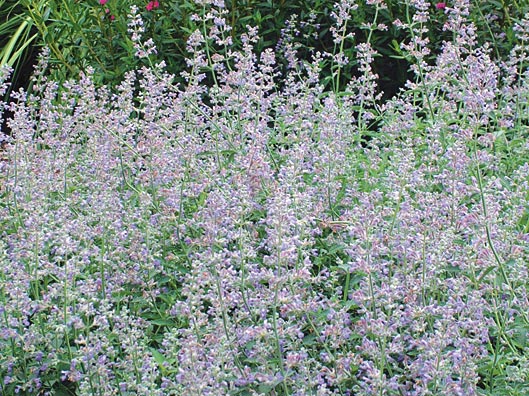 Walters Gardens
'Six Hills Giant' One of the finest blue-flowering perennials available is a type of Nepeta called catmint. Not catnip. Not mint. Catnip is the version that's popular amongst cats. Mint, as we commonly know it, is in a completely different genus (Mentha) and, although some are attractive, most are used for herbal applications. Mint can also spread uncontrollably through the garden. Catmint, on the other hand, forms manageable clumps, has scented foliage, and is excellent in the perennial or rose garden. There are short and tall varieties available, but almost all of them form clouds of blue spikes above gray-green leaves from mid June to late July or August. No sunny garden in need of blue-flowering plants should be without at least one type of catmint.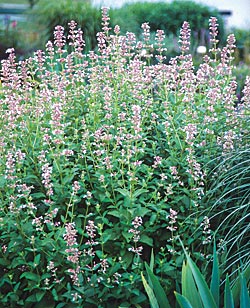 Walters Gardens
'Dawn to Dusk' Native to parts of Asia, catmint has been used for centuries in Europe. The English have used various Nepetas as long-blooming, scented perennials along the front of the border or pathway. A minty fragrance is released when one brushes along the leaves or steps upon a stray stem. Nepeta is very easy to grow and is even tolerant of poor soil. Some plants in fertile, rich soil will require division every 2 to 4 years to keep the growth habit tidy and manageable. Plants will tolerate full or partial sun but the taller varieties may require staking in less than full sun. Bees and butterflies are especially fond of catmint flowers, while deer and rabbits shy away. Catmint is a fine cut flower as well.
The blue flowers and airy growth habit of catmint make it the perfect companion plant for a rose planting. The small blue flowers of Nepeta look exquisite with the large and bold flowers of almost any color rose. Many summer-blooming perennials are also excellent compliments to catmint. The light and delicate flowers of catmint are perfect against larger flowers. Try the pink bee balm 'Marshal's Delight,' white Shasta daisies, daylilies, tall garden phlox, or coneflower to name a few.
The species of catmint that is most readily available is Nepeta x faassenii. Varieties of this species have a horizontal growth habit and can grow quite wide if not divided every few years. 'Blue Wonder' has dark blue flowers and is one of the best low growers. It only grows 12 to 15 inches tall and can spread as wide as 3 feet. The flowers begin in mid-June and will persist until the beginning of August. Deadheading is not necessary but shearing the top third of the plant can prolong the bloom time by a few weeks.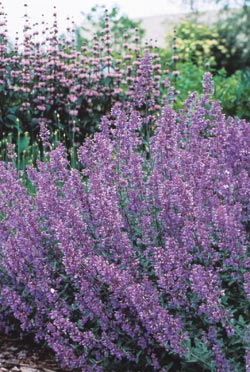 Walters Gardens
'Walker's Low' One of the best-known catmints is the taller 'Six Hills Giant.' It is used extensively in England to produce the classic blue border so often portrayed in gardening books. It has violet flowers above plants up to 30 inches tall. 'Walker's Low' is very similar to 'Six Hills Giant,' but has slightly darker violet flowers. Its name implies a more compact growth habit, but in reality, this is one of the largest catmints available. It has extra long, 30-inch stems that relax to form a mound 18 to 24 inches tall. Like 'Six Hills Giant,' it will start blooming in June and continue through August. Both of these varieties are perfect choices for the front of a bed where a wide, dramatic border of blue is desired. For a pink catmint, try the newer variety 'Dawn to Dusk' which features pink flowers on plants that grow three feet tall.
If your garden requires a more erect grower, try a Siberian catmint or Nepeta sibirica. The variety 'Souvenir d'Andre Chaudron' has large lavender-blue flower spikes. This one stands up nicely and can be used further back in the border. It begins blooming in July and will last until the end of August or September. It is exceptionally hardy (zone 3) and should not require dividing as frequently as the shorter varieties.
Catmint has something to offer nearly every garden and gardener. The novice will appreciate its undemanding growth requirements, while the new garden will benefit from its rapid rate of growth. Everyone can enjoy its fragrance and the abundance of blue flowers that it provides for the garden or your freshly picked summer bouquet. Catmint may be just what you need for the dog days of summer.
Nepeta (NEP-uh-tuh)
Common name: Catmint
Plant type: Perennial
Plant size: Height and width: 12-36 inches, depending on variety
Habit: Clump-forming, airy mound
Hardiness: Zone 5 or colder
Flower color: Various shades of blue and violet; pink
Flower size: 1/2 to 1-1/2 inches long
Bloom period: Summer
Leaf color: Gray-green
Leaf size: 1-1/4 to 3 inches long
Light: Full to partial sun
Soil: Any well-drained soil
Uses: Blue-flowering plant, perennial border, rose bed, cut flower
Companion plants: Roses, bee balm, daisies, daylilies, tall garden phlox, coneflowers, and many more summer-blooming perennials
Remarks: Easy to grow, fragrant foliage
George Papadelis is the owner of Telly's Greenhouse in Troy, MI.