In no particular order, we're recapping 15 great books from 2010 for the gardener on your holiday shopping list. Any one of them would be a great holiday gift for the green thumb on your list. We'll feature a book a day starting December 7.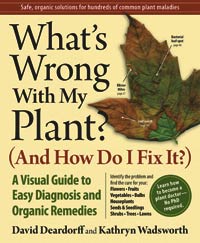 What's Wrong With My Plant? (And How Do I Fix It?):
A Visual Guide to Easy Diagnosis and Organic Remedies
by David Deardorff and Kathryn Wadsworth
This guide provides an easy system for visually diagnosing plant problems, and matching them to a cure. What's Wrong With My Plant? (And How Do I Fix It?) (Timber Press, 451 pages, $24.95) includes information about houseplants, perennials, vegetables, trees, and shrubs. It is split into three parts. Part One presents illustrated flow charts, organized by the location of symptoms on the plant, so the reader can accurately diagnose the problem. The format does not require knowing the name of the plant; all you need to know is whether the problem is affecting its roots, stems, flowers, or leaves.
Part Two offers 100 percent organic ways to fix the problems. From improper growing conditions and environmental factors, to molds, pests, and diseases, every problem has a safe, natural solution. Part Three shows photographs and drawings of stressed, damaged, and diseased plants that help with accurate comparison.
Whether your garden consists of herbs on a kitchen windowsill, a vegetable garden, an elaborate backyard border, or a container on a patio, this reference book is a resource any gardener can use.