In no particular order, we're recapping 15 great books from 2010 for the gardener on your holiday shopping list. Any one of them would be a great holiday gift for the green thumb on your list. We'll feature a book a day starting December 7.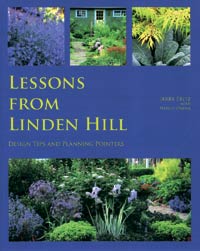 Lessons from Linden Hill:
Design Tips and Planning Pointers
by Jerry Fritz with Nancy Ondra
The lifelong dream of landscape designer Jerry Fritz comes to life when he purchases a farmstead in the heart of Bucks County, Pennsylvania. The property includes an old, dilapidated stone barn filled with junk. Bucket by bucket, he and his family remove the junk and have the barn refurbished. They relocate their landscape business from their home to this new location, surround it with traffic-stopping display gardens, and open a collector's-level nursery. So much so, that Martha Stewart invites Jerry to her show to design a deer-resistant container planting featuring unusual thrillers, fillers, and spillers—including "blurple" flowers from Linden Hill. Not quite blue, not quite purple—they're blurple.
Not only is Lessons from Linden Hill (Linden Hill Gardens, 108 pages, $19.95) a must-read for green industry professionals, it is the story of a guy with a truck evolving into a destination garden center and gardens that give hope to deer-riddled gardeners. The incredible journey entails good instinct, an homage to history, and a passion for colorful foliage and flowers. The book is inspirational and packed full of fabulous plants and design tips, including how to look at a space and see what it could be, gardening in deer country, using stone in the garden, and working with a garden designer.