In no particular order, we're recapping 15 great books from 2010 for the gardener on your holiday shopping list. Any one of them would be a great holiday gift for the green thumb on your list. We'll feature a book a day starting December 7.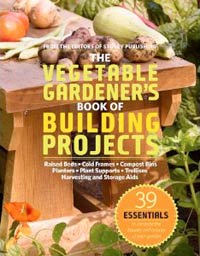 The Vegetable Gardener's Book of Building Projects
by the Editors of Storey Publishing
The Vegetable Gardener's Book of Building Projects (Storey Publishing, 152 pages, $18.95) includes 39 simple-to-make projects that cost a fraction of the retail cost. Some of the projects include: cold frames, compost bins, planters, raised beds, potting benches, gates, trellises, storage containers, outdoor furniture, bird houses, and others. They are designed to increase your harvest, make your garden chores easier, and turn your garden and yard into an appealing outdoor space for relaxing and enjoying the fruits of your labors.
Each project includes step-by-step instructions, detailed illustrations, complete materials and lumber lists, tips, and a four-color photograph of the finished product. Many of the projects are ideal for beginners, and most can be completed in just a few hours. Projects are labeled as half-day, full-day, or weekend to indicate the complexity of the project and the time commitment required for completion. This resource highlights a diverse array of popular projects that will enhance the efficiency and quality of vegetable growing.