In no particular order, we're recapping 15 great books from 2010 for the gardener on your holiday shopping list. Any one of them would be a great holiday gift for the green thumb on your list. We'll feature a book a day starting December 7.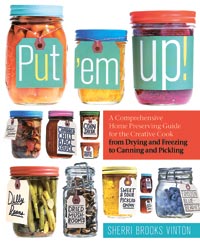 Put 'em Up! A Comprehensive Home Preserving Guide
for the Creative Cook
by Sheri Brooks Vinton
Put 'em Up! (Storey Publishing, 304 pages, $19.95) offers simple, step-by-step instructions with colorful photos and 175 delicious recipes for home preserving. The author begins with a section on techniques that offers how-to information for every kind of preserving: refrigerating, freezing, air- and oven-drying, cold- and hot-pack canning, and pickling. Equipment lists, process instructions, ingredients, and storage details are provided and highlighted with drawings. There is even a chapter entitled "Things that Will Surely Get You into Trouble," to help the reader avoid common mishaps.
Recipes using many common fruits and vegetables include tried-and-true favorites like applesauce and apple butter, dried tomatoes, marinara sauce, bread and butter pickles, and classic strawberry jam. Some of the more unique recipes include "Wasabi Beans," "Cherry and Black Pepper Preserves," "Pickled Fennel," "Sweet Pepper Marmalade," "Berry Bourbon," and "Salsa Verde."
Flexible options for each recipe are provided with a color-coded, icon system. Within a single recipe, choices of various methods are listed at the end of each set of instructions so the cook can decide which process they would like to use.